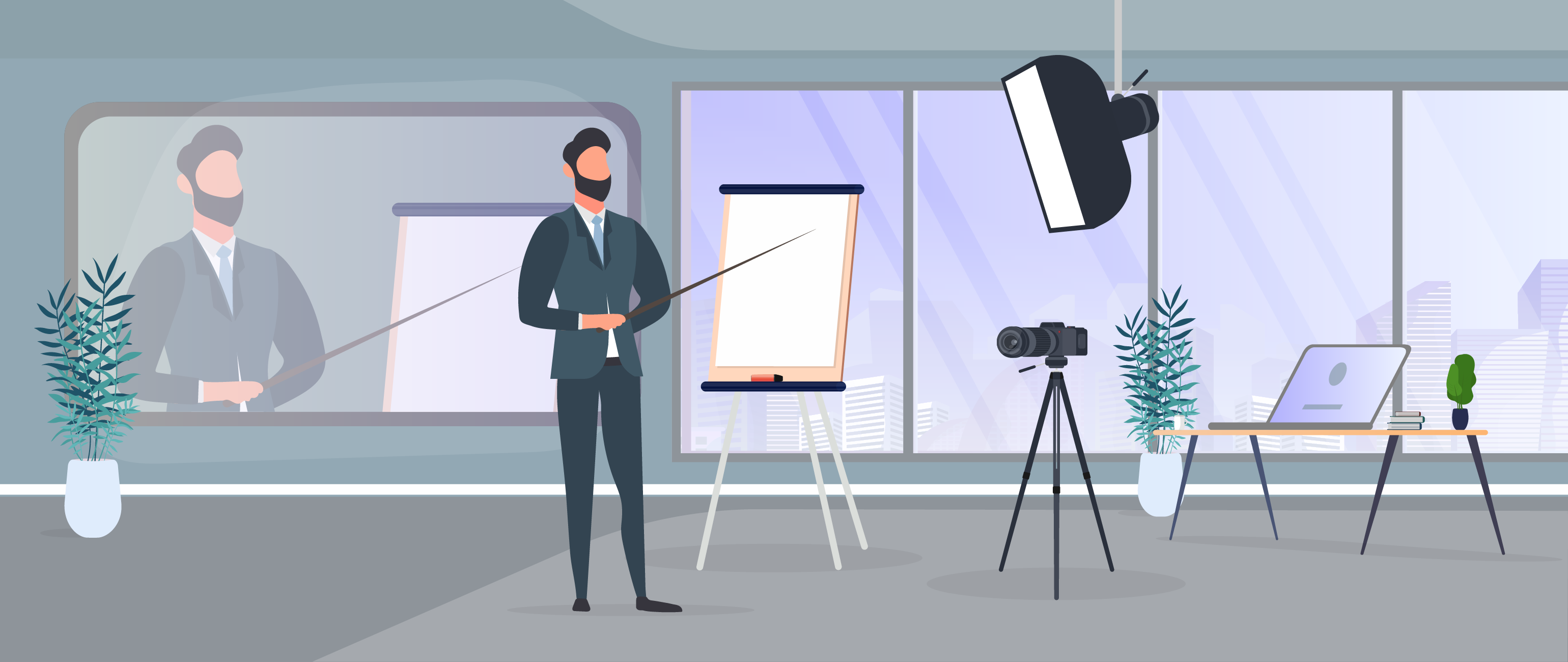 What should my (live) stream setup for virtual events look like? – Everything you need for a professional event stream
Few other professions have had to adapt to new challenges in recent weeks and months as much the event planner. Instead of an exhibition hall, suddenly livestream providers must be hired and instead of a catering service, image and sound technicians are needed.
That's why many planners come up to us and ask questions like: "How much money should we invest in our streaming?" or "Can't we just hold our lectures with a zoom and a webcam?
We want to look into this topic and explain what is really important for successful event streaming.
When is my livestream actually good?
This question can' t be universally answered. It is in the eye of the spectator, i.e. your participant. However, as viewers of a stream or a video we are used to certain quality standards today. Streaming productions on portals like YouTube or Twitch are often barely distinguishable in their level of professionalism from studio productions on TV. So why should we have different expectations from a professional B2B event?
How important is my audio?
Your livestream stands and falls with your audio quality. Viewers are more likely to forgive a slightly distorted picture or a couple of pixels missing than a bad sound. It can become especially critical when different speakers speak at completely varying volumes.
So, it does not help to adjust as a spectator from home. This is where a sound technician can help, who has an eye on all audio sources during the broadcast and can adjust if necessary.
What quality should my recording have?
First of all, it helps to have a good camera and ideally also a good employee behind the camera.  You should at least be able to stream in HD, that is 1280×720 pixels. A Full-HD stream with 1920×1080 pixels would be optimal. This is the most common screen resolution today and is certainly pleasant to the eye.
To keep the attention of the spectator, it is advisable to have several cameras and a regular change of scenes and perspectives. So-called streaming-overlays can also make your stream considerably more attractive and simplify the integration of different cameras and image sizes. For example, you can integrate slides of a presentation directly into the image instead of having them open in the background. This looks professional and makes it much easier to read along.
Especially when watching from the home office, we have a small attention span and are quickly drawn away by smartphones or other distractions. With the methods mentioned above you can tie your audience to the screen.
Do I need someone to take care of the lighting?
When it comes to light, a few small tricks can help to improve the quality of your stream considerably. Be sure that your speakers do not throw shadows. For this purpose, it is helpful if a light source (e.g. a softbox) also lights the stream from the front. If at home, you can place yourself facing to a window and bright up your stream with daylight.
Should I involve the audience in my stream?
Long story short, yeah! There is a reason why videos and streams are on a good way to substitute television. We want to share our thoughts and want to know what other viewers think and interact with them.
This can be a simple chat function, live voting or even a concluding Q&A. Involve your viewers, respond to questions asked or even engage in a dialogue with the chat. After all, this is your audience, only this time they are not sitting directly in front of you.
However, do not forget to also moderate each interaction channel and to provide adequate staff in the backend.
Which service providers do I need now and what will it cost me in the end?
That depends of course very much on your budget. But always keep in mind that with a professional streaming setup you are investing in an important part of your event. You could compare it to the exhibition hall, the stage and the technical equipment of a presence event.
For good image and sound it is worth working with a livestream production company. These people bring the necessary know-how and technology to take your stream to a new level.
In addition, we recommend bringing live support for speakers from your backend. Especially if the speaker is not in the studio, especially if he or she is broadcasting from home. Nothing is more annoying than when the sound suddenly doesn't work, the camera is switched off or other careless mistakes are made when starting a webinar. The support team can provide brief instructions to your speakers before the performance and take care of all technical problems.
Lastly, you need a livestream provider or host who delivers the stream from his server. We recommend Bigmarker, a service with which we have already streamed many successful events.
Converve itself only offers its own streaming solution for 1:1 meetings and roundtables. Advantage of these solutions: Your participants do not have to go through annoying registration processes and download software. In the Converve platform, your participants are immediately involved and can consume your content, join in and make personal appointments without much effort.
Conclusion
Virtual events have presented us with new challenges that many of us have never dealt with before. If we want to stand out with our events today, we have to adapt to the situation. There is hardly any other way than to invest in a professional streaming setup.
We would be happy to advise you if and to what extent a production is useful for your event. Simply use the form to get in contact with us and we can arrange a personal call or demo. Hope to hear you soon.