Unlock Your B2B Event Potential with Our Community Platform
Bring together your target audience in a tailor-made community platform, fostering professional networking all year round.
Schedule a Demo
Continuous Networking, Every Day of the Year
Give members and organizations the ability to create detailed profiles. Locate and organize profiles efficiently with the help of filters, keywords and matchmaking.

Utilize matchmaking to help attendees create meaningful connections and let them start virtual meetings through the built-in conferencing tool.

Take control of your platform and its rules. Decide who can view others and which groups of participants should interact.
Talk to an Expert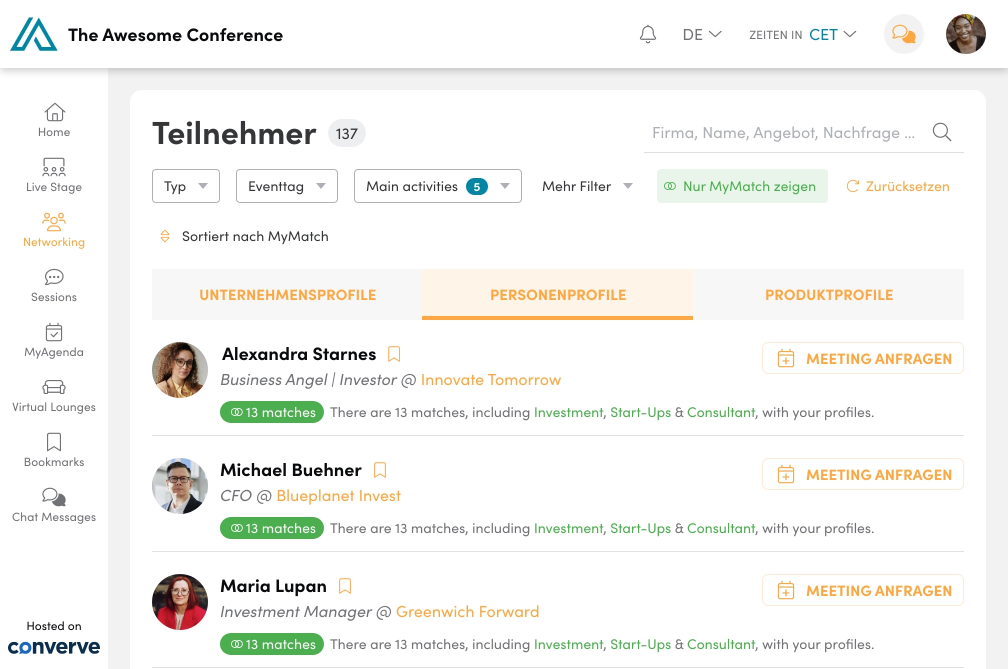 All Your Events in One Community Platform
Leverage your community platform to promptly and effortlessly establish new events, effectively keeping your dedicated audience engaged.

Memberships allow you to grant your attendees entry to events, sessions, exclusive content, and functionalities within your community platform.

With Converve Rooms & Meetings, manage all appointments, sessions, webinars, and workshops within your community platform.
Talk to an Expert
Crafted for a Wide Range of Community Types
All Features of Your Event Community Platform
Enhancing Your Event Community's Experience
Explore Your Event Community Platform Options with Our Experts