The digital world is your oyster when it comes to monetizing your virtual event. Since almost everything has moved online, the virtual events industry has been thriving during the pandemic. This has created a lot of new opportunities for sponsors and they see the advantage in investing in virtual events.
With a well-thought-through sponsorship package, you can sit back and let the deals bring in the sponsors. But how do you create a package that does the heavy lifting? What do sponsors really need? And why would they invest in the event? The answer is pretty straightforward. The sponsors get to amplify their presence, generate leads and set themselves up as thought leaders in their industry.
What would set your sponsorship package apart is competitive pricing and how you push the boundaries of tech creatively. You can easily create a win-win deal for your sponsor, the virtual event and the audience when you know what to offer. Since this is a relatively new way of getting sponsors, it might seem like an uphill battle to get everything right from the get-go. This is why we have put together all the great ingredients to make your virtual event package an irresistible deal.
In this article, we explore why companies sponsor virtual events, how they can add value to your event and what to consider while creating a powerful sponsorship package.
Let's start with a simple question.
Why do companies sponsor virtual events?
The first word that pops in our minds when someone asks why companies sponsor events is "Leads". And it makes sense. Because of the sea of possibilities, it reels in massive leads in B2B markets.
The second reason why companies would want to sponsor digital event packages is brand awareness. Tools like emails, notifications and advertisements help sponsors be in control of their presence.
How can your virtual event benefit from sponsorship packages?
Sponsorship packages can open new doors and improve the quality of your digital event. A few of the crucial benefits are:
1. Supercharge your credibility
If you want to make your event legit, getting sponsors is the way to go. It validates that sponsors believe in it too and are shelling out the big bucks to back your event. This takes your virtual event's credibility up a notch and shows that you are hosting an event that delivers results. It would reinforce your virtual event participant's trust and drive in more sign-ups for the event
2. Multiply your audience
You can boost your audience numbers exponentially through sponsorship deals. Your event would have many sponsors who'd bring their audience into the mix. A larger number of people can be accommodated with better technology and planning. And this is possible thanks to the support and monetary benefits from sponsorship deals.
3. Boost your budget
Getting sponsored increases your budget and helps you make your event bigger and better. And the best way to get sponsored, you guessed it right, is through sponsorship packages. With a bigger budget, you can organize everything you'd want your audience to experience. From better technology to the very best event entertainment, your attendees can have it all.
7 tips to craft a winning virtual event sponsorship package.
Find Common Ground With Your Sponsor's Goals
Establish the Objectives of the Sponsorship
Keep an Eye Out for Branding Opportunities
Give your Mobile Event App a Sponsorship Upgrade
Design Exclusive Virtual Exhibition Packages
Provide Options to Collaborate and Contribute.
Flexible Pricing is Your Friend
Find Common Ground With Your Sponsor's Goals
The very first question you should ask yourself is, does the sponsor's goals fall in line with your event's. Get sponsors who are relevant to your event and who have a similar or complementary audience as you. The audience should feel like there's a natural connection between the event and the sponsors. This would make it a cohesive experience for everyone involved.
Here's a quick rule of thumb: The bigger your event gets, the more you can branch out to sponsors from other industries. For smaller virtual events seek out sponsors based in your industry.
Establish the Objectives of the Sponsorship
It's important to go down the rabbit hole and understand why you're doing what you're doing. This will help you come up with a strategic plan and give you a clear insight into creating different types of sponsorship deals. You can distill this information into tier packages so your sponsors have options to choose from.
If monetizing your event is the top goal, sponsors can play a part in engaging the audience as well. With these sponsors, you might want to consider a long-term partnership. The package for these deals would be more open-ended and centered around retaining sponsors.
Keep an Eye Out for Branding Opportunities
Many of your sponsors might only be looking for brand exposure. For these sponsors, it would make sense to build packages based on this need. Here are some of the spaces for sponsor branding you can include in packages:
1. Event registration pages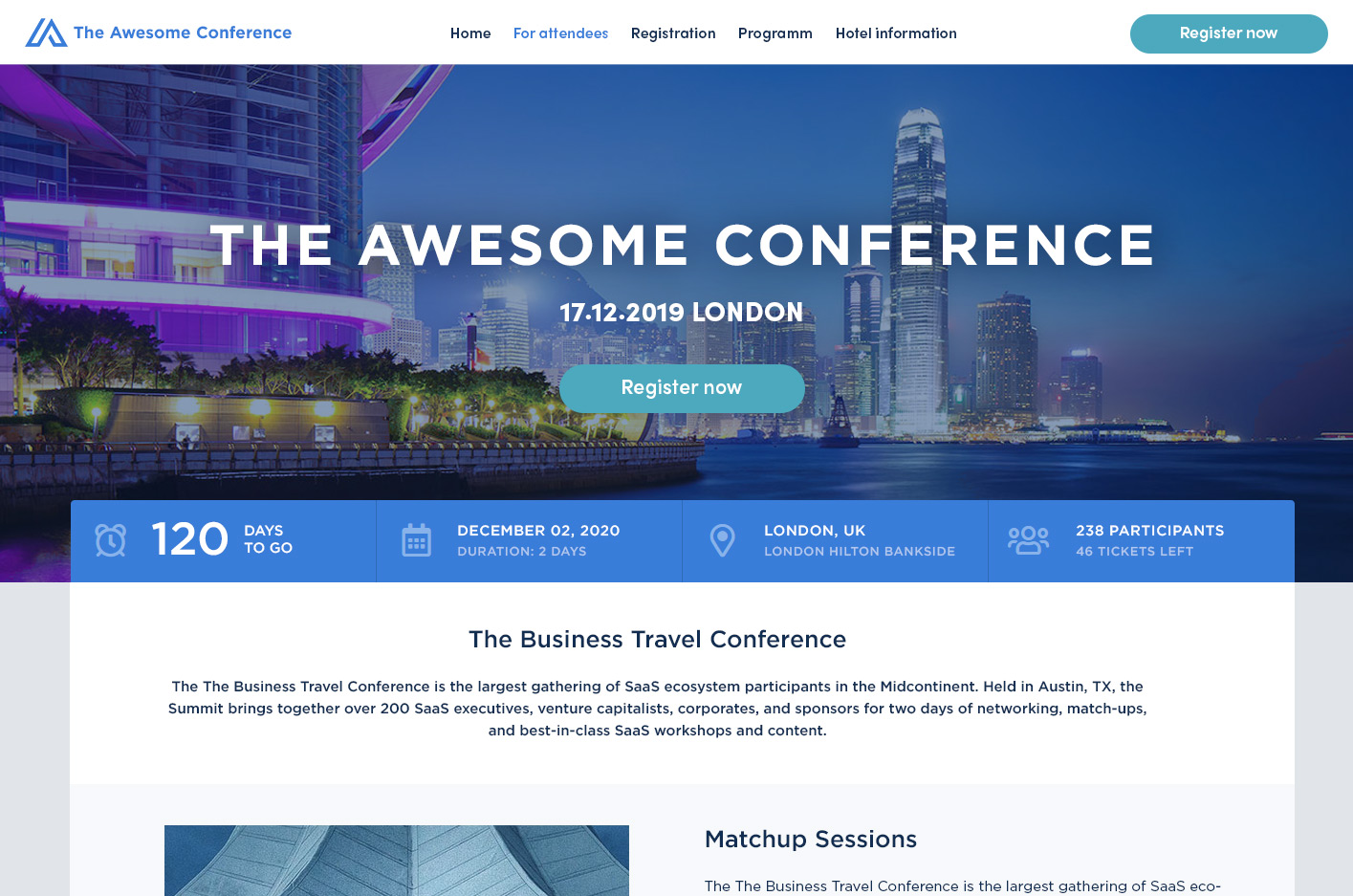 Sponsoring possibilities: header image, logo section, dedicated sub-pages, videos
2. Livestreams, Webinars & Workshops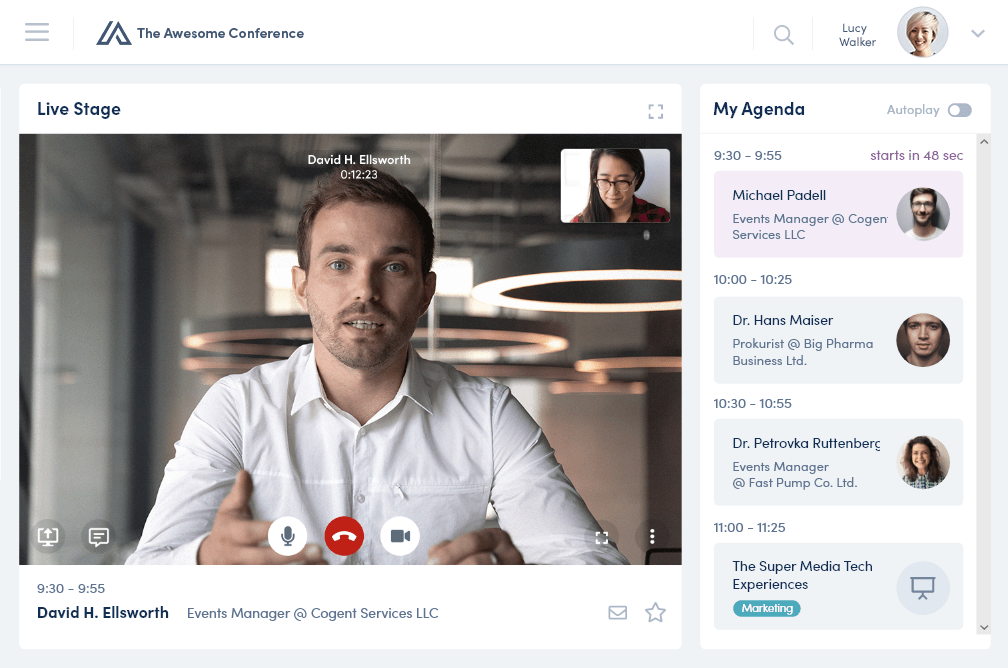 Sponsoring possibilities: Stage Name, chat, pre- or mid-roll ads, sponsored live polls, logo display
3. Enhanced sponsor profiles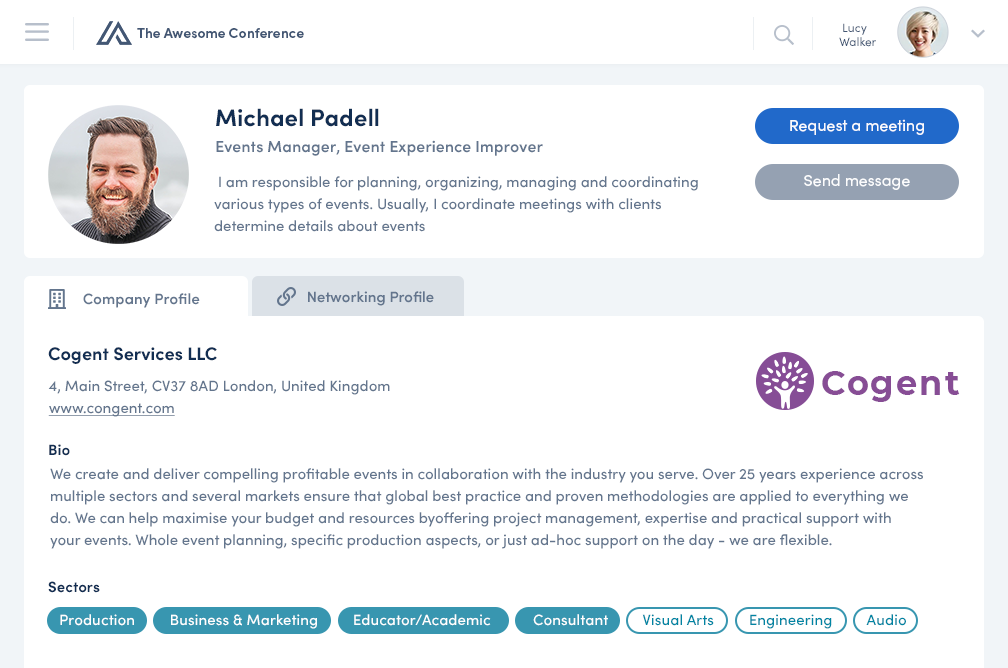 Sponsoring possibilities: special badges, better networking visibility, advanced profile customization
4. Sponsored Sessions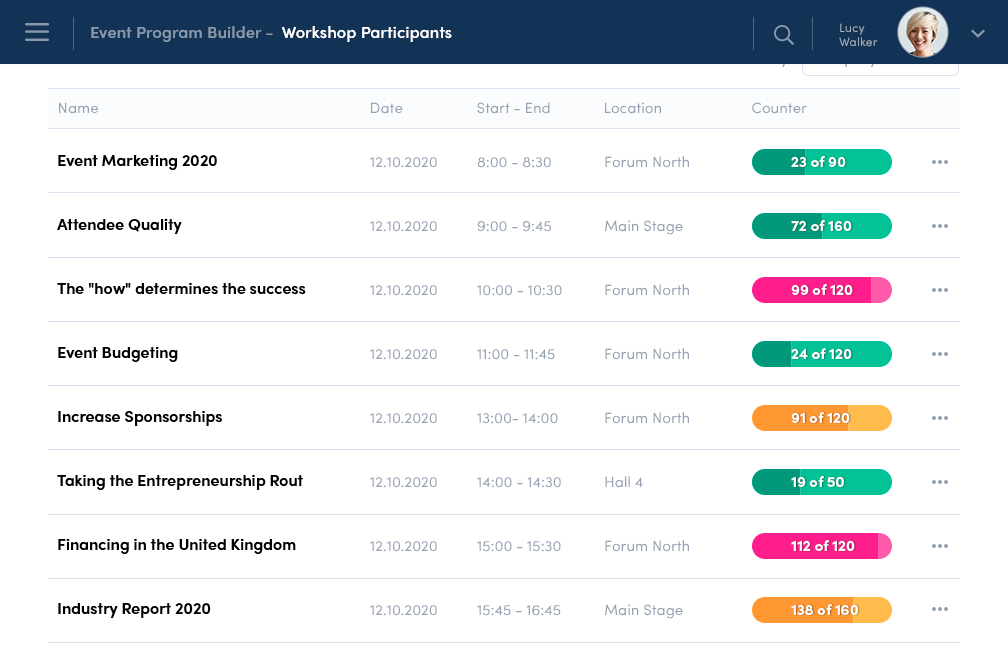 Sponsoring possibilities: branded breakout rooms, sponsored webinars & workshops
These are only a few virtual event sponsorship ideas possible with the Converve platform. For more branding ideas, you can check out: Event sponsorship: 37 creative ideas for event managers
The main aim of these packages is to maximize your audience's awareness of the sponsor. So be on the lookout for branding opportunities your sponsors can use.
Give Your Mobile Event App a Sponsorship Upgrade
Creating an additional sponsorship package for your Mobile Event App can help sponsors expand their reach. Logos, mobile notifications, and commercial videos are some great options your sponsors would love. When done right, the placement of sponsor content can easily draw in the right audience.
Design Exclusive Virtual Exhibition Packages
Virtual exhibitions provide an abundant playing field to experiment with sponsorship content. Generating leads and driving sales are some of the strongest features of this format. A few pointers you can include in your Virtual Exhibition package are:
Digital Resources: Sponsors can provide information about their products and services on the platform. The users can have the option of downloading the content too. You can also build awareness by guiding them to their website.
Access to Attendee Directory: Giving the sponsors access to the attendee directory ensures they can network easily. They can also directly reach out to prospective customers and strike a conversation.
Virtual Booths: You can offer virtual rooms where sponsors can talk to their prospective leads one at a time. Video calls, instant chat options and waiting rooms can create a strong space for the sponsors to build their presence on.
Provide Options to Collaborate and Contribute
Don't miss out on the opportunity of getting your sponsors to contribute directly to the event. They can deliver valuable sessions with guest speakers. They can also be featured in exclusive interviews, games and polls that engage the audience. These aspects can be monetized when they are part of the package.
Flexible Pricing is Your Friend
One package may not fit all. Give your sponsors options to choose from so that the package fits their goals. You can do this by giving differently priced packages with a range of branding features. Take your competitor's price into consideration to get a good estimate of the package's monetary worth. Talking to your sponsors about their budget and their needs will help you create a tailored fit. Maybe give each sponsor individual consideration and set prices on a per case basis.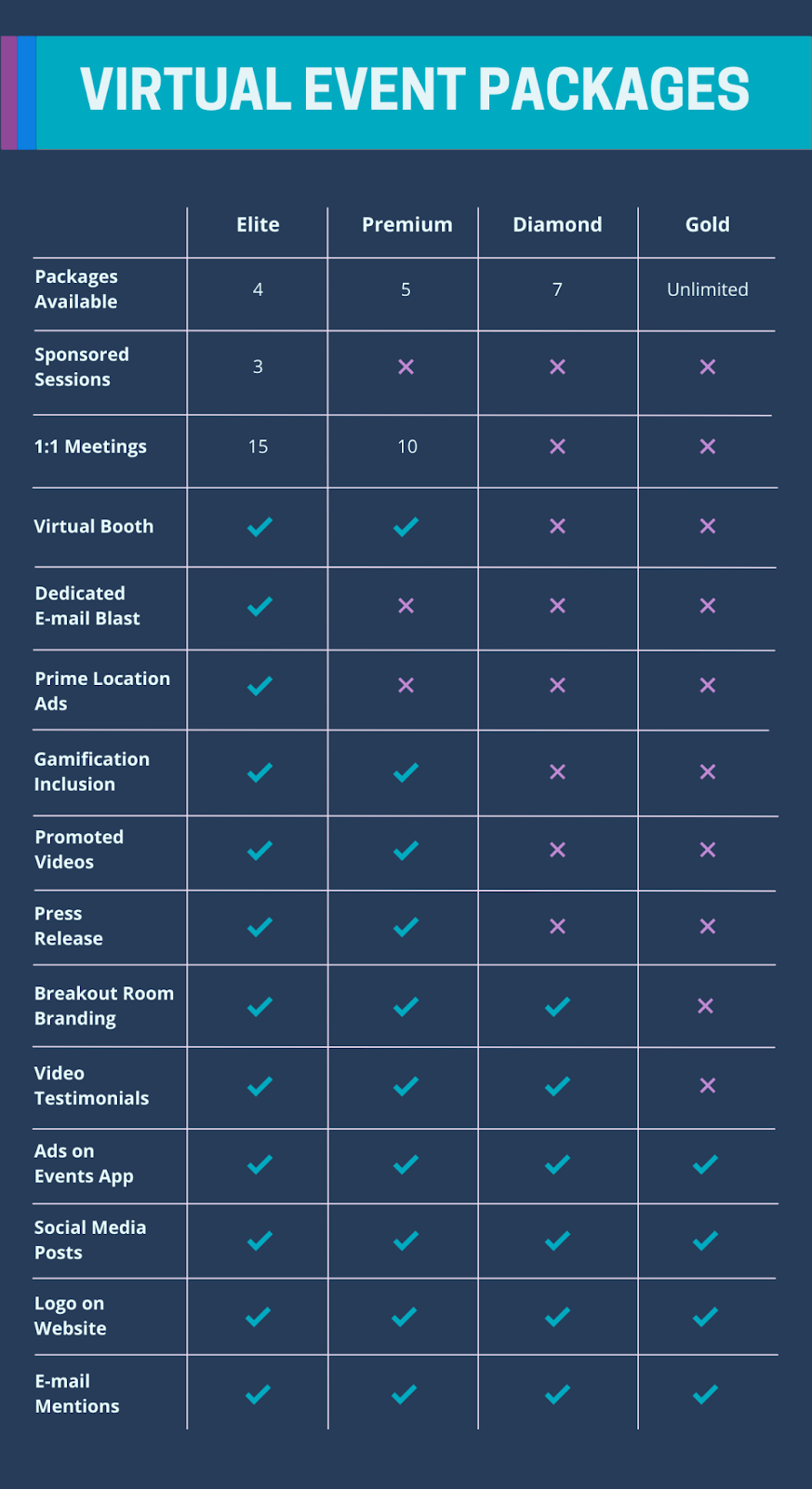 Example of different Virtual Event Sponsorship Tiers
In a nutshell
Think leads, exposure and competitive pricing while creating an event sponsorship package. Also, include access to event analytics so your sponsors have the numbers to measure their success. Adding different tiered packages with different features ensures your sponsors find their match. An effective deal will not just help you get more sponsorships but also make sure you retain them in the long run.
You might also be interested in:
Event Sponsoring: 37 Creative Ideas for Event Managers
Virtual matchmaking events: why is the 2022 event format so popular?
Event marketing: on which social media platforms should you be represented?