You want to organise an event but are not sure whether it should be a purely virtual event or a hybrid event? To help you make the right decision, we have compiled a series of advantages and disadvantages of hybrid events compared to purely digital events and in-person events.
A hybrid event creates advantages for you such as greater reach and more security in planning, at the cost of organisational effort and technical investment.
To demonstrate the advantages and disadvantages of a hybrid event, we contrast them with completely virtual events & face-to-face events.
Which type of event to choose: Virtual event or hybrid event?
The event industry was deeply damaged by the pandemic. Instead of face-to-face events, only purely virtual events could take place for a long time. With the loosening of restrictions, planners and marketeers are consciously asking themselves whether they should plan their upcoming events on-site, hybrid or purely digital
But what is actually the difference?
In contrast to purely digital events, a hybrid event is a combination of a physical presence event (live event) and a virtual event. A limited number of participants can be present on site, while the rest of the participants follow the event online.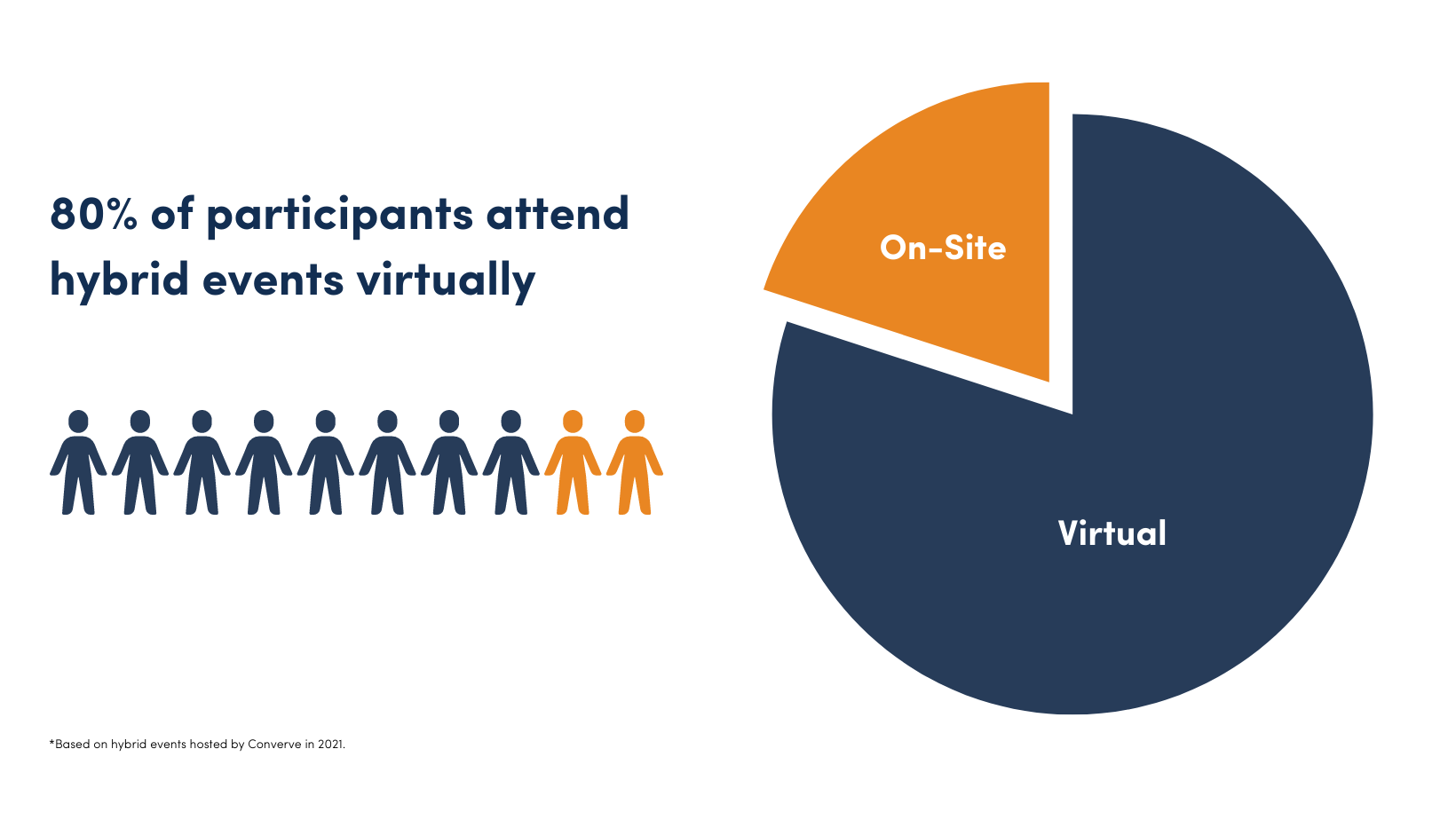 As tempting as planning a face-to-face event may seem after the relaxation of restrictions, hybrid events have unbeatable advantages. On the other hand, a mix of onsite and offsite event means double the effort and comes with additional challenges to overcome as an event planner. From this perspective, a purely virtual event might be more effective.
Ultimately, you need to look at the advantages, disadvantages and your specific circumstances to find the right solution for your event and your target audience. Read the pros and cons of hybrid events carefully and weigh up which event form best suits your ideas and goals.
Hybrid Events: Advantages
Hybrid events are being hailed as the events of the future. Not entirely without reason, as they offer many advantages. We have listed them for you below.
Largest potential reach
Since hybrid events combine the best of the virtual and physical worlds, you address a significantly larger target group with hybrid formats than with purely virtual or purely physical events. You leave it up to your customers to decide how they prefer to participate in your event. One participant has become accustomed to the conveniences of online events from home, while another prefers face-to-face networking on-site.
You can find the perfect solution for both groups of participants by planning a hybrid event. On the other hand, with a larger number of participants in hybrid events, you increase your reach and maximise the success of your event.
Pros: Hybrid Event vs. Virtual Event → Participants who prefer the face-to-face nature of events will be attracted to your onsite event option.
Pros: Hybrid Event vs. In-Person Event → Attendees who are unable to visit due to travel restrictions or those who value the digital event benefits can purchase a virtual ticket.
No restrictions and greater planning reliability
A purely on-site event often leads to limitations in terms of venue size and number of participants. In times of covid, hybrid formats give more planning security. Consider attendance numbers are suddenly limited or onsite events are banned altogether. With hybrid events, you can reach a large number of participants under all circumstances and, if necessary, have the event take place completely on a digital platform.
Pros: Hybrid Event vs. In-Person Event → Similar to purely virtual events, you do not have to limit your participant numbers due to location or covid measures.
Attract and invite more international speakers
Furthermore, you can have speakers from all over the world participate in your event, which would not be possible with conventional events. The acceptance of speakers participating on stream has also increased considerably among participants. Also consider that in recent years speakers have also become accustomed to not necessarily having to be and site, and familiar with presenting virtually. If you want to attract many well-known and possibly also international speakers, then a hybrid concept will help you.
Pros Hybrid Event vs. In-Person Event → Like a virtual event, more speakers from all over the world are able and willing to speak at your event. Travel restrictions are no longer a barrier.
Gather more marketing data
A more digital event means more online participant behavior. This means that you can collect more data from hybrid and purely virtual events than from physical events. Professional event platforms for hybrid and virtual events offer you reporting and analysis tools that make it possible to identify leads and track what went down particularly well with the audience. You can use this knowledge for your future events and marketing campaigns.
Pros Hybrid Event vs. In-Person Event → More data generation, reporting and analysis opportunities that can be used by marketing.
Since you can only sell a limited number of on-site tickets, the demand is likely to be even higher. Therefore, you can sell scarce on-site tickets at higher prices.
Pros: Hybrid Event vs. In-Person/Virtual Event → With two ticket types, you have virtual tickets as well as the scarce and sought-after on-site tickets that you can price higher.
Better options for sponsorship
Hybrid events also give exhibitors and sponsors greater scope and new opportunities. Sponsors can decide for themselves whether they want to present themselves live on site or digitally. In addition to classic booths, they can set up virtual booths and profiles. You can also offer sponsors more space at hybrid events, as they are not limited in the virtual space. On the other hand, your event will be more attractive to sponsors, as you will most likely reach a larger audience with hybrid event formats than with pure in-person or virtual events. And your participants? They can listen to all sponsored talks & content recorded on video, if they wish, instead of having to choose one session as usual.
You want to involve sponsors in your event but don't know how? We have put together 37 creative sponsorship ideas for you.
Pros: Hybrid Event vs. In-Person Event → More sponsors and new sponsorship formats are possible as the space is virtually unlimited.
Pros: Hybrid Event vs. Virtual Event → Sponsors can still present themselves on site with a booth if they choose to.
Lower costs and reduced CO₂ footprint
A large face-to-face event is associated with higher costs. By planning a hybrid event, you can minimise costs for room rental, catering and travel – and even save them completely for purely virtual events. Another advantage of hybrid events, where fewer participants travel, is a lower CO₂ footprint. And this is not insignificant when you consider that travel to and from the event accounts for about 70 % of the CO₂ emissions of the entire event.
Pros: Hybrid/Virtual Event vs. In-Person Event → Fewer travel activities lead to lower CO₂ emissions.
Hybrid Events: Disadvantages
Hybrid events offer many advantages, but it is important that you are also aware of the challenges so that you can find the right solutions.
Doubling the effort in planning
Ultimately, you plan two events in one: classic on-site with catering and speakers on one stage and a virtual one. At the same time, you have to ensure interaction and crossovers between virtual spectators and on-site participants. The complexity in planning increases significantly with hybrid events. This starts with the check-in processes, which have to be possible online and offline, up to the timing, where online and offline participants are brought together. Due to the higher complexity, a software for hybrid events is almost indispensable if you want to plan a hybrid event successfully.
Solution: With an all-in-one solution like Converve, you can plan and execute your hybrid event with just one tool. You have all the building blocks for your event at your hand. Whether registration for different participant groups, participant management, event website and event app, matchmaking, networking between the participants or reporting function for success control.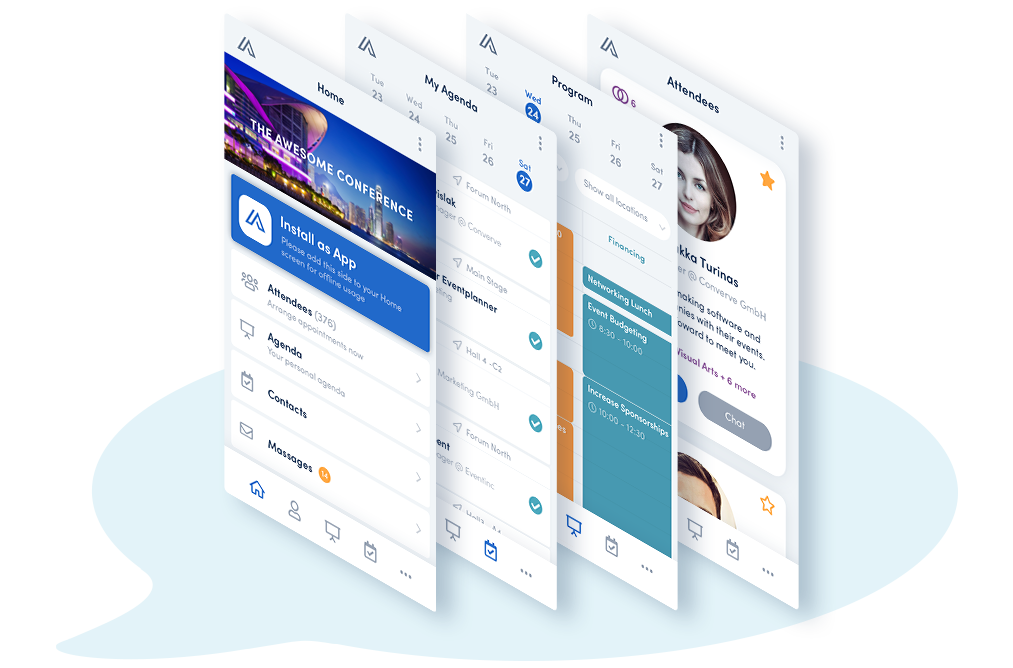 Investment in technology and know-how for high-quality streams
You should expect initial investment costs in order to be able to guarantee streams in good quality. This means your costs, which you save for premises, travel and catering on the one hand through fewer on-site participants, will have to be invested in a suitable tool for hybrid events as well as high-quality technology for your first hybrid event. You should also expect to have to train staff to make sure everything runs smoothly. Train staff to master the technology for live streams, the new workflows and the simultaneous handling of virtual and live communication.
Networking between online and offline participants becomes increasingly challenging
You organise an event so that the participants can network with each other. And that's not easy when the majority of the audience is participating from behind a screen. With hybrid events, event planners have to think in a whole new way to come up with creative concepts in terms of networking. After all, you want all participants to interact with each other, whether online or on-site. You should answer the following questions for yourself: Are the online participants attending simultaneously or with a delayed? How can you connect all participants via text or video chat? And what ideas can you come up with to keep the attention of online users throughout the event?
Solution: An event app can be the connecting element for both groups and promote networking – whether on or offline.
Choosing the right event location
Choose your event location carefully and make sure that the Wi-Fi is designed for many simultaneous video calls and good transmission quality. Many locations do not yet meet this need, which is why you should definitely find out in advance. It would be a disaster if your event could suddenly no longer be broadcast due to insufficient bandwidth.
Transport of experience and emotion
It is more difficult to design an event for screen viewers as an immersive experience. Conveying emotions and experience in the digital world is a new challenge that you have to take on. Also bear in mind that you cannot transfer the physical concept 1:1 to the virtual world, as fatigue sets in much faster in front of a screen. Therefore, check all the content of your event carefully to see if it is also compatible virtually.
Tip: Short but quality content with lots of variety is best suited virtually to maintain the attention span of online participants. Be sure to leave enough space for networking and interaction for online participants to feel part of the event.
Conclusion: Hybrid Events Pros and Cons
Hybrid events are the future and rightly so, because they offer unbeatable advantages: greater reach, greater attractiveness for sponsors and more planning security (especially in the current times) and many more. Nevertheless, you should know that planning hybrid events is significantly more complex, as you have to plan two events in one and consider the crossover of both groups of participants. Due to the high effort involved, a hybrid event is only worthwhile once a certain number of participants has been reached. To master the disadvantages of hybrid events and benefit from the many advantages, we recommend that you work with software that supports you in your hybrid concept. Converve offers you exactly the right software solution for your hybrid events.
You want to know more about Converve? Then contact us and we will find a customised solution for planning your hybrid events.