In the constantly changing landscape of events & conferences, promoting sponsors has risen from being a footnote to being one of the highlights. From offline to virtual to hybrid events, there are a ton of ways your sponsor can gain exposure. Here are 37 compelling sponsoring ideas for any event or conference.
Hosting product launches, conferences or any kind of event always gets people buzzing with excitement. It's an action-packed time for event managers with heaps of things to get off their to-do lists. And of course, you have sponsorships to get the ball rolling.
Sponsorships are the cornerstone of any successful event. You can make sure they are getting their due by putting them at the centre of the show now and then. It doesn't matter whether the event is virtual, in-person or hybrid. Regardless of the event format, sponsors can make a strong impression and forge a meaningful connection with the audience. Creating exclusive experiences tailored specially for the attendees does the trick. And adding a dash of creativity surely helps in spicing things up. If you're wondering how to do that, you're at the right place.
We originally wrote this article back in June 2014 and it's been updated from time to time as new trends emerge. With each update, it has received more interest and we want to continue adding value. Given the innovation in the event space, we're keeping it fresh with some new ideas.
Already got your event format in mind?
We added badges for Hybrid, In-Person and Virtual event sponsoring ideas so you can easily focus on the tips that benefit you the most.
Here's an exhaustive list of new and improved 37 event sponsorship ideas for in-person, virtual and hybrid events:
1. Make it larger than life
Anything can be better when it's bigger. Well, maybe not always. But when it comes to event sponsorships, it works. Getting your sponsor's content on big screens, projections or giant interactive versions of a product intrigues the audience and draws them in. Not all events might have the bandwidth to fit-in expensive props but the idea behind it can still be applied. For example, you could have huge balloons or soft toys with the sponsor's logo.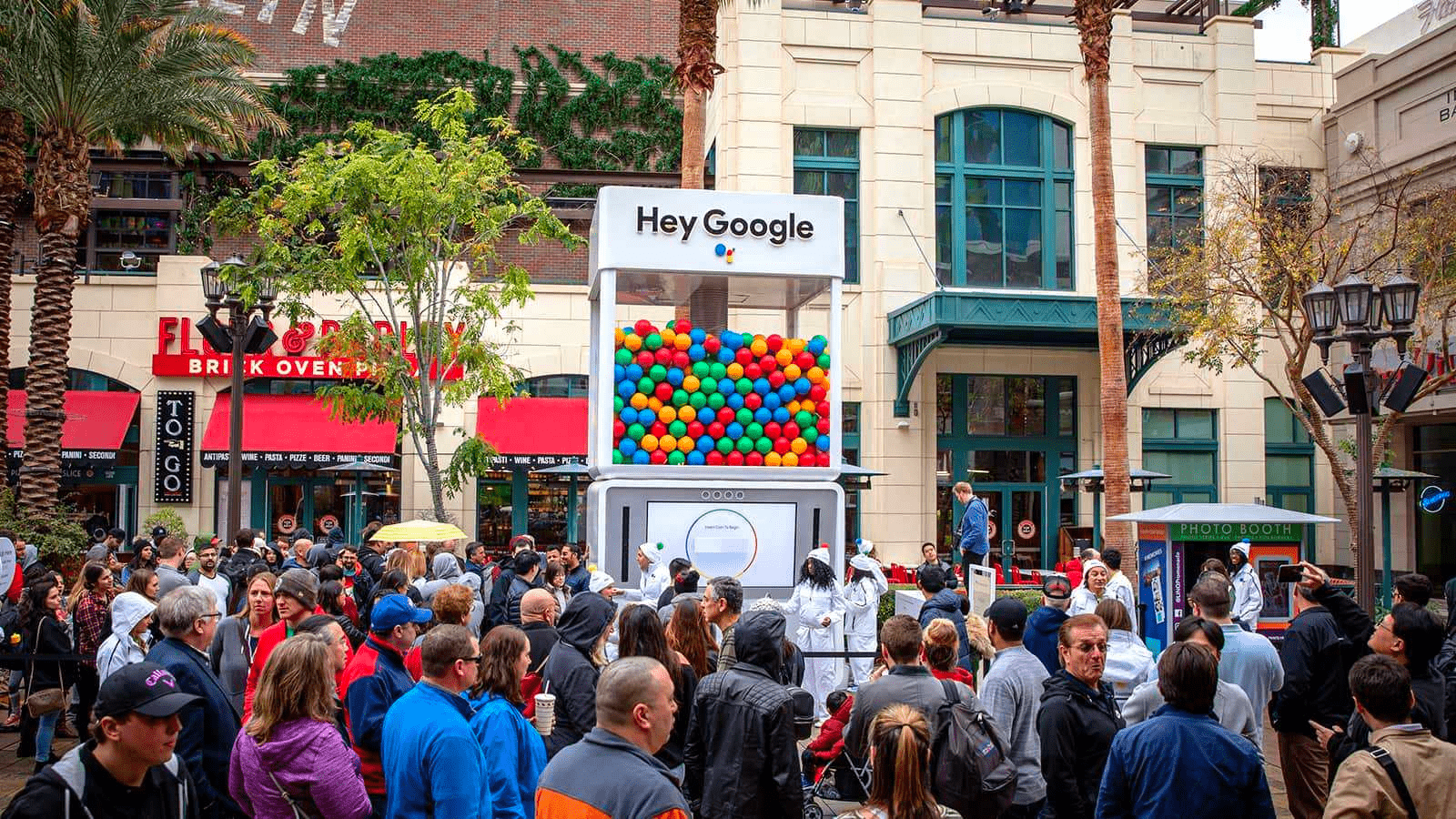 Google always wins with their fun and innovative products. And the gumball machine equipped with the Google Voice Assistant at the CES lived up to the hype. People got a chance to ask Google a question in exchange for prizes.
2. Branding up to the ceiling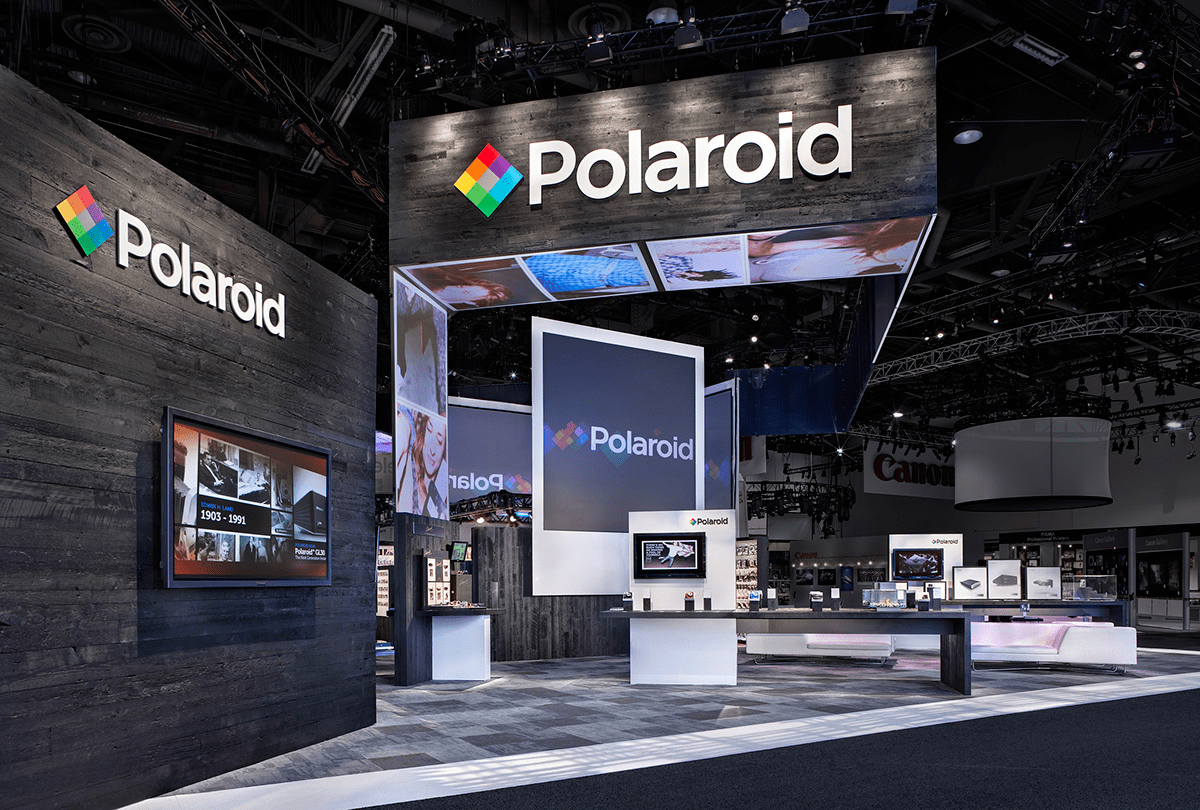 It's easy to overlook the ceiling of your booththough it's right above our heads. This space is particularly valuable because it's not obstructed by people or any other distractions. Make use of this area with some aesthetic lighting and include your sponsor as well.
3. Don't forget to have fun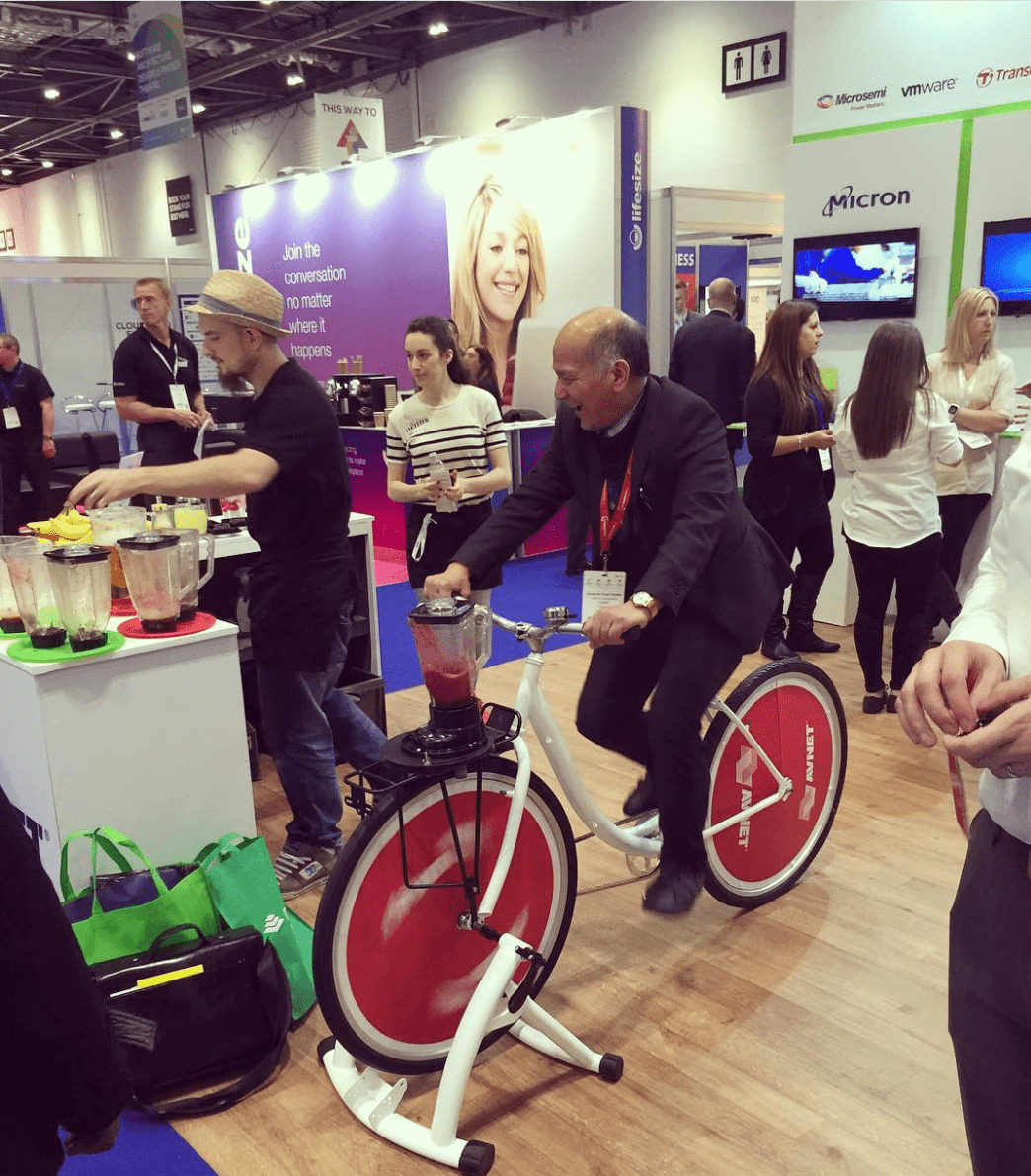 Amidst all the action make sure your visitors are letting some steam off. And they will love you for it. Get a smoothie bike and hop on the pedal for the beverage. It's fun, healthy and makes for a great photo op too. You can get creative with using the space for sponsor brandings like the bike and the mugs.
4. Get behind the filter
AR filters make stunning photographs and videos of your audience. Also, it can seamlessly fit in with your social media strategy. Add some fun visual aspects of your sponsor and get your attendees to share their selfies on social media. And don't forget to create some hashtags to track your success online.
5. Add value with NFTs (Non-Fungible Tokens)
How about treating your audience to some NFT goodie bags and collectables? You can add your sponsor's products and brand these collectables with your sponsor's logo and your attendees can have them forever in the digital universe.
6. Use cooldown zones at your conference

Hopping from one booth to another can be quite exhausting. Create a space in your event for attendees to cool off courtesy of your sponsor. A seating area with snacks and beverages available would be perfect for your attendees to relax. You can also take this time to get to know your audience better and build your network.
7. Everyone is on Tiktok, and so should your event
Hop on board with the social media app everyone's talking about. You can document the process of creating the event, sponsors and displaying the products. For your visitors, you can create a TikTok corner, challenge and hashtags and get the conversation started on the platform. You can even include props for your attendees to use in their videos.
8. Go big with a videowall
A video wall will make you stand out from your competition. It gives you a huge canvas to display content that can be seen even from a distance. It is also visually stunning and gets your attendee's attention easily. And customizing the content on the screen is as easy as changing a light bulb.
9. Get your snack game on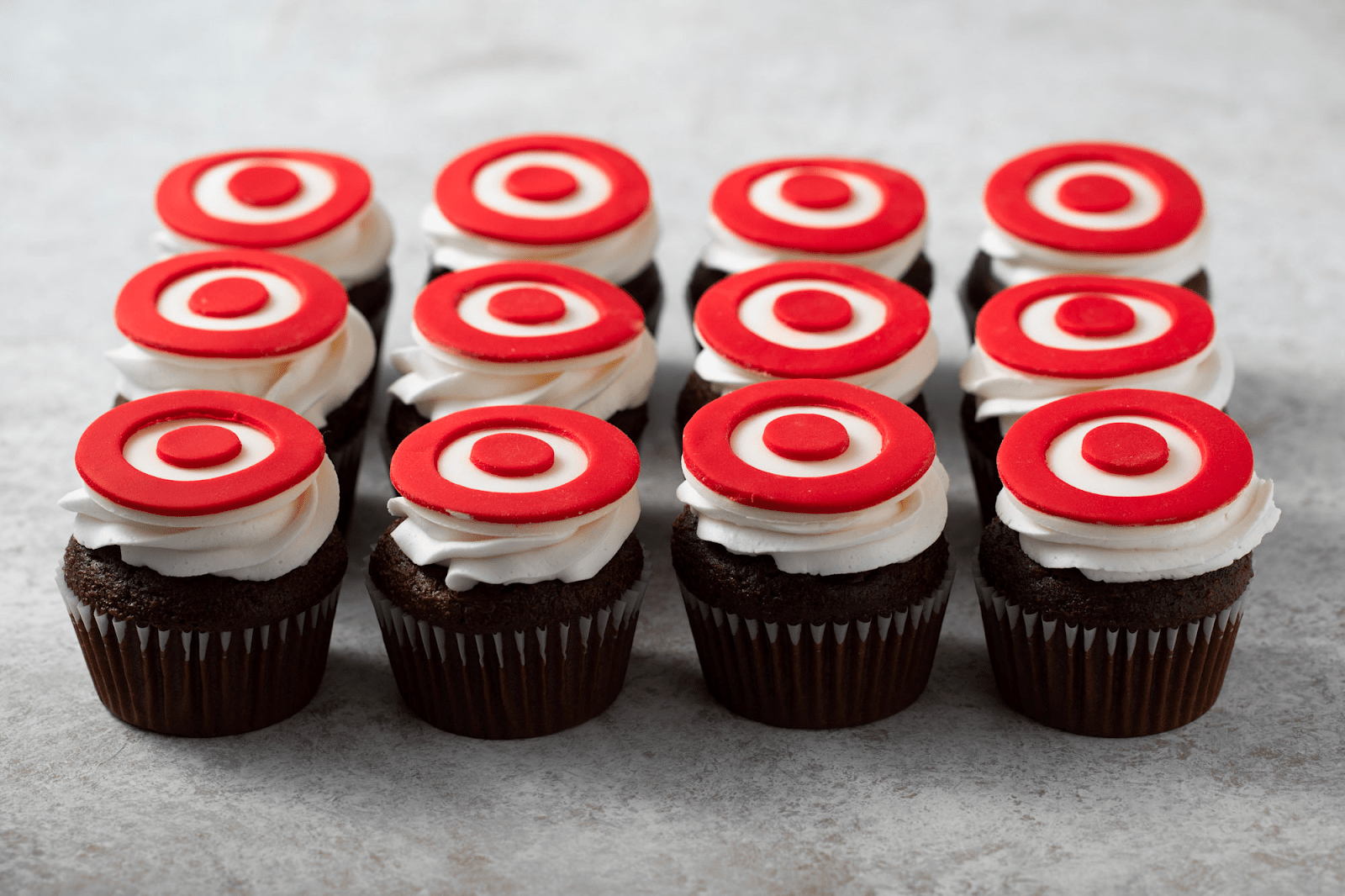 Who doesn't love free food?! Your visitors would appreciate you offering them snacks on the house. You can go the extra mile and give a shout-out to your sponsor by adding their logo on it. Little things like these can make your event a memorable one.
10. Multitask with scannable bracelets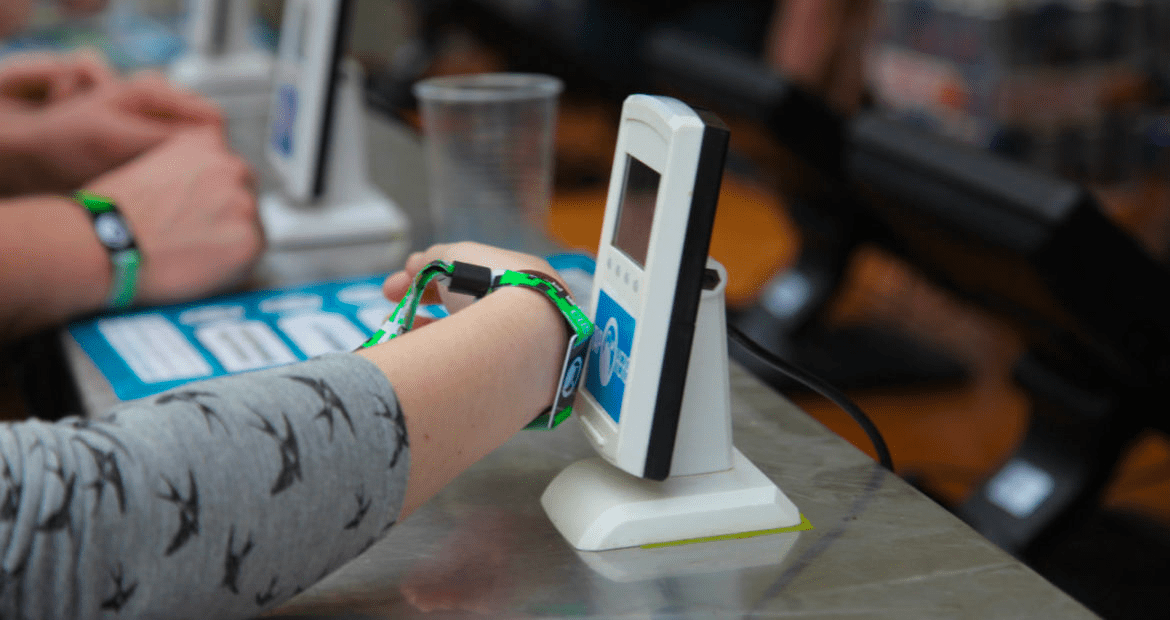 This tiny bracelet is big on utility. Since the pandemic, RFID bracelets have become more popular because they can be used without physical contact. The attendees can scan it to access exclusive parts of your events, they can also make payments with it and can be branded as well.
11. Take centre stage on social media platforms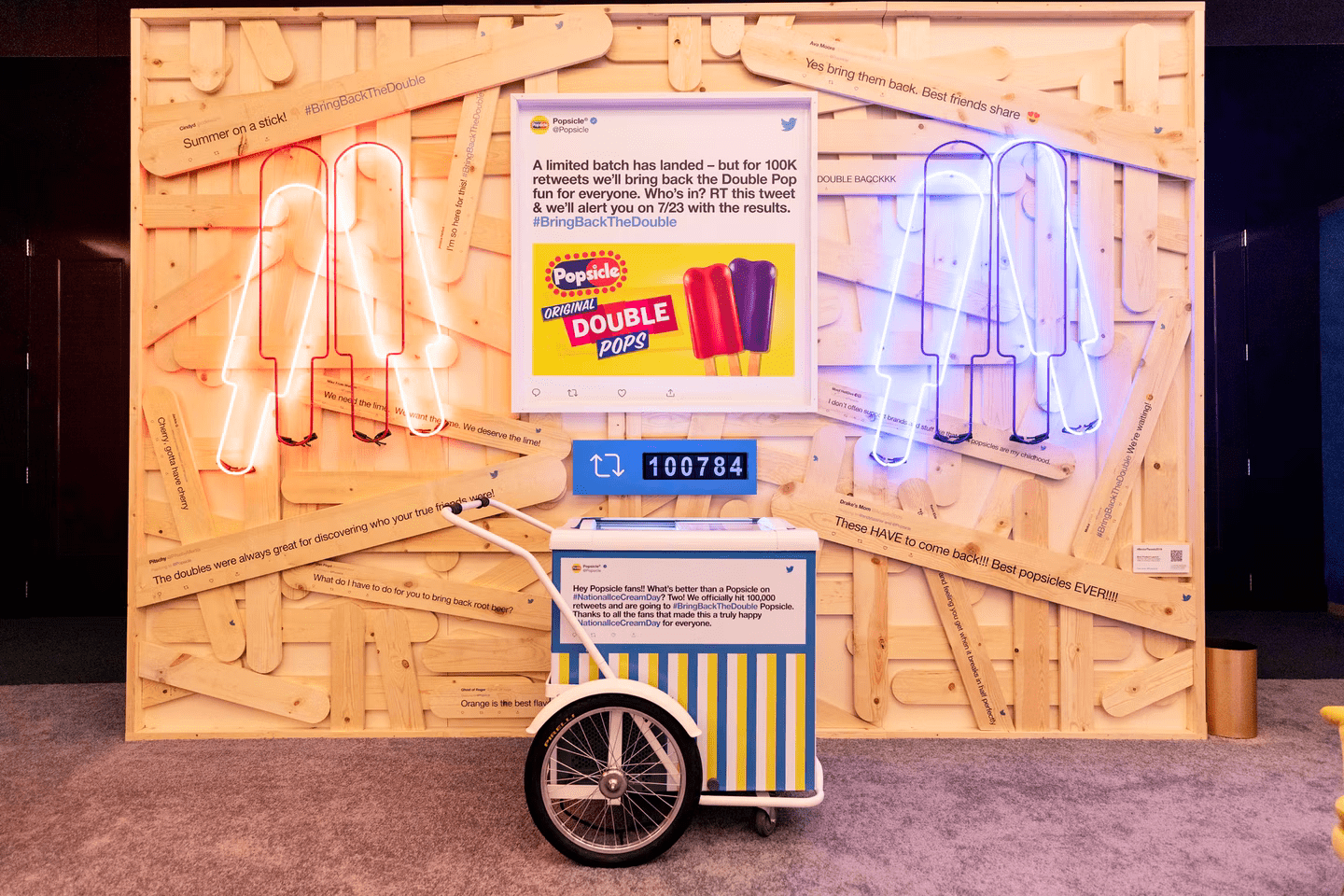 Social media is one of the best ways to get the word out about your event. Posts have a massive reach and have pretty good recall value. It works flawlessly at every stage of the event. Also, it's a perfect way to put out branded content about your sponsor too. Create exclusive event hashtags so your efforts are rewarded with increased awareness and traction.
12. Photos frozen in time
Your attendees can take home memories of the event with Photobooths. There have been quite a few upgrades with photo booths like the latest 3D version. It's in MP4 format and captures all the angels and look visually stunning. Throw in some props and your audience will have all the tools to create fun pictures.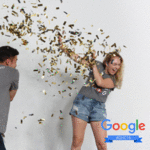 13. Gather meaningful insights trough surveys
You can easily read the room and get a pulse on what works well with the visitors through surveys. This also helps in understanding which sponsors work best for you and how you can tailor the experience for everyone involved. Sponsors can have the option of integrating their questions into the survey too. This facilitates interesting findings and can increase sales leads considerably.
14. Develop your event personas
Creating a realistic representation of your audience is quite helpful because they are your point of reference for everything that goes into the event. These representations can include purchase factors, source of information, and what influences their decision-making process. This would be valuable to sponsors as they can consider the event from the attendee persona's perspective and fine-tune their experience.
15. Let your attendees run on a full battery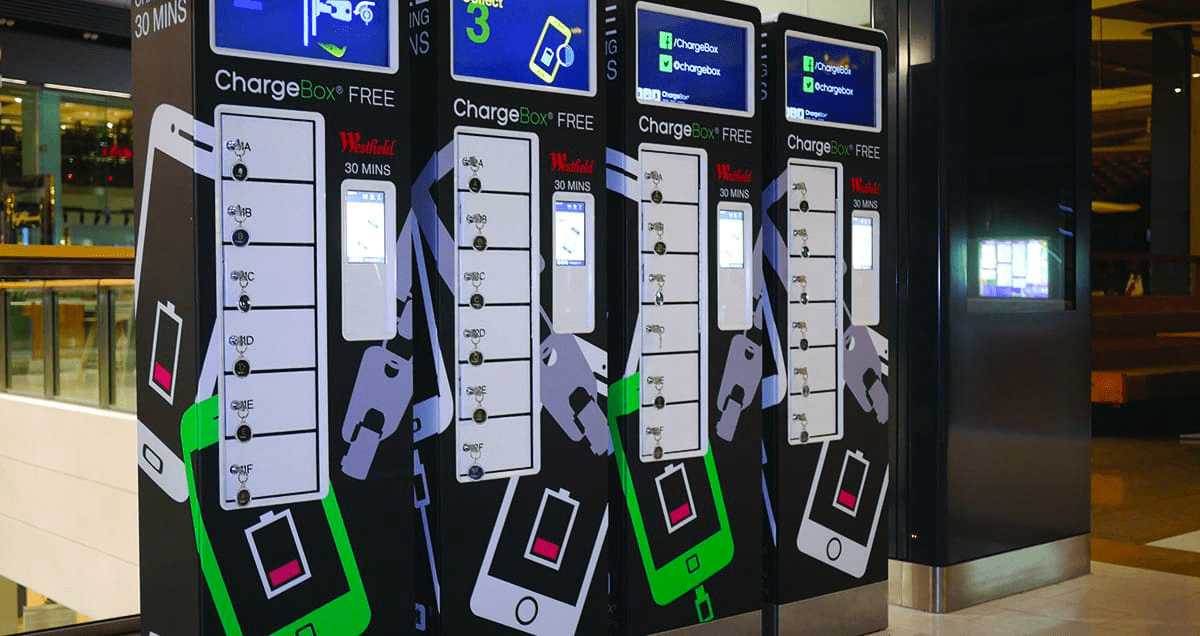 Nothing annoys event attendees more than empty batteries. You can ensure your visitors never run out of charge by setting up charging stations. ChargeBox did a pretty good job with this. They offered visitors of music festivals lockable mobile charging lockers.
16. Never underestimate the power of a strong internet connection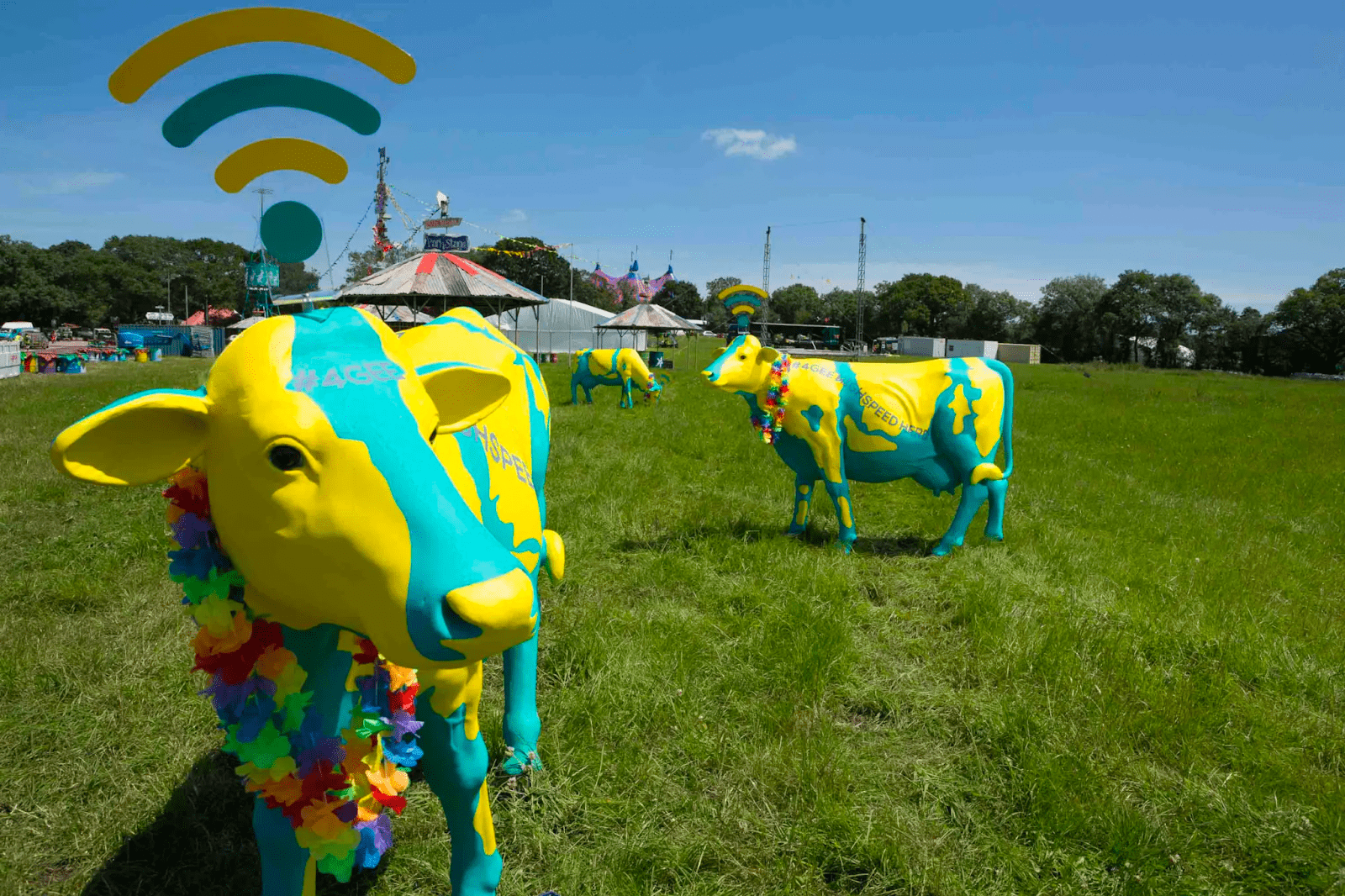 Your audience would appreciate a strong internet connection, especially when it's free. Create wi-fi hot spots in your event and give them fun names and passwords. The Glastonbury Festival provided "Moobile" wi-fi hotspots in the shape of cows around the event. It not only got its visitors online but also started a conversation with a good pun.
17. Make parking a pleasure at your event
Finding a good parking space is difficult. Even more so when there are a lot of event attendees. You can provide free parking spaces covered by your sponsors. There are a lot of branding opportunities in this space. And it also makes it easier for your visitors to get to your event easily which leaves a good impression.
18. Go live or go home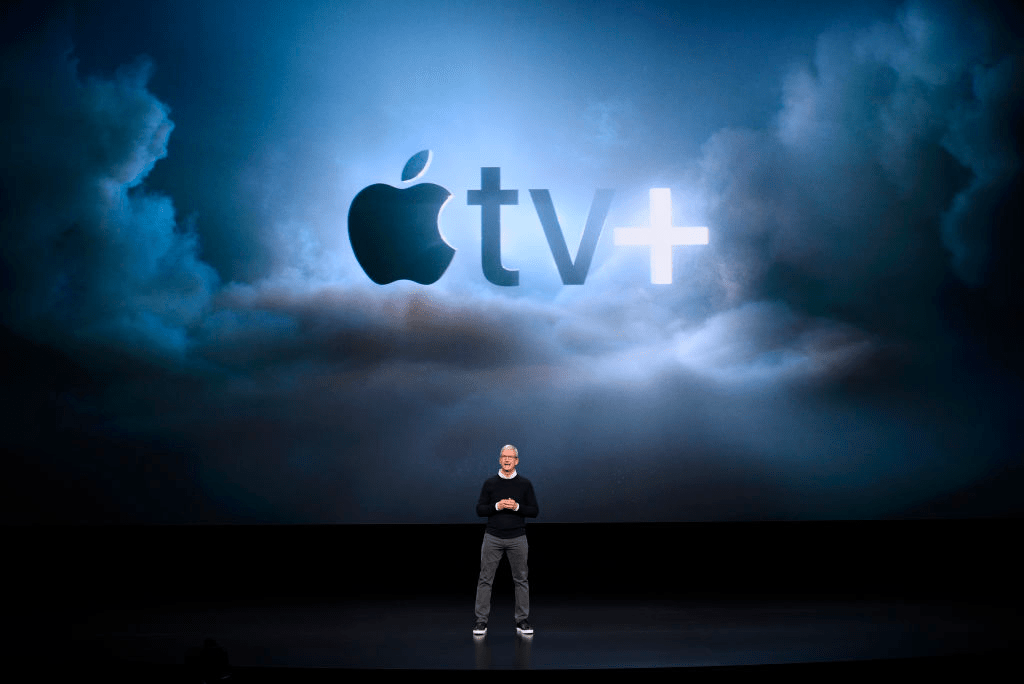 Livestreaming has swiftly become a vital part of events. Use this to your advantage and get attendees from all over the globe to jump in. All your audience needs is a good internet connection and they are good to go. You can add your sponsor's logo to the Livestream and invite them to talk to the audience.
19. Short pitch, big impact
A person's attention span is pretty short. Stay on your audience's mind with short video clips of what you and your sponsors do and play it on loop in your booth. Compile them and put them up on your website too so your online visitors can enjoy them. Here's an example of how startups were introduced at the Zukunft Personal 2017 trade fair. Companies had small stands in the Startup Village and they created 15-20-second pitch clips on a web-based platform.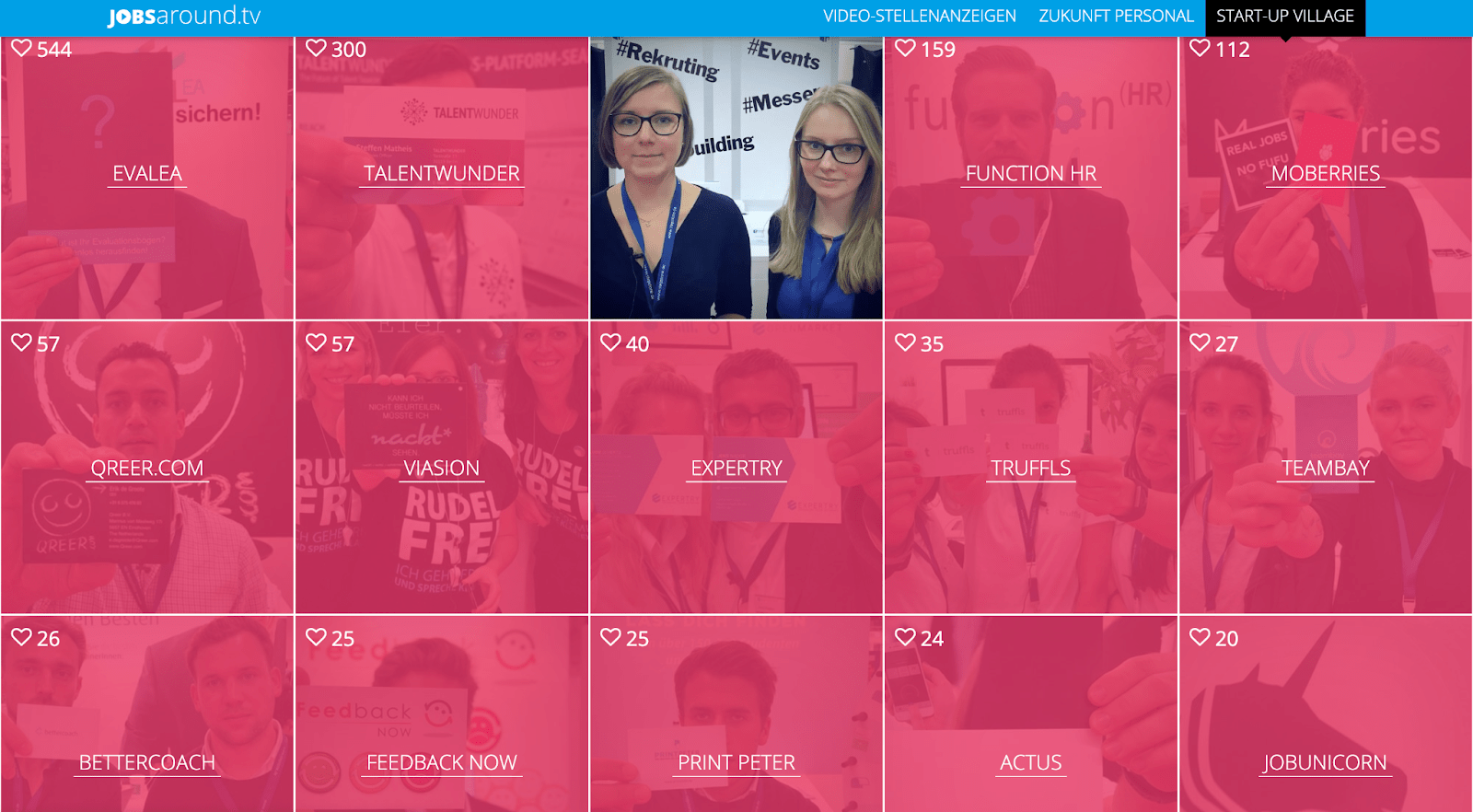 20. Get your swag on
Give your audience something to remember you by. This could be related to your brand and your sponsor or it could be something fun your visitors could use. This is particularly great for recall value as they are reminders of your event. Make sure the goodies are of good quality so they are cherished for a long time.
21. Take your sponsors to the Metaverse and beyond
Sponsorships have evolved from physical, to digital and are now, taking a huge leap, into The Metaverse. Digital replicas of physical events have been created in the Metaverse and a lot of big names have already jumped the wagon. We've just scratched the surface of what this could mean to sponsorships. You can submerge your audience in an immersive digital world and integrate your sponsor with virtual event collectables, branding and exclusive VR events.
22. Interactive walls are conversation starters
Your audience can be a mix of outgoing and reserved people. While the social crowd thrives on in-person interaction, the reserved ones might want to explore on their own. An interactive wall is a perfect solution for the latter. An interactive wall is a multi-functional piece that can be an event decor, a source of information and a branding element.
23. Challenge your audience with contests
Having a contest is a fun way to get your audience involved in your event. You can get creative with the prizes and give away something your winners would enjoy. At a Dreamforce event, New Voice Media had a contest to spread the message about the amount of time spent on cold calling. They wanted to draw attention to how their service cuts downtime considerably. Attendees had to guess the amount of time it would take to melt a block of ice inside which there was an iPhone. The participants who guessed correctly won a brand new phone.
24. Set the tone of the event with live music
Music is a universal language that brings people together. When done right, it can set the perfect mood for your event. Book a band or a DJ whose music your audience would like and create a lively atmosphere. You could also make this part more personal by getting participants to vote for their favorite song and having the band perform it for your audience.
25. Let the event presenters take the lead
Landwirtschafts-Gesellschaft DLG (EN: German Agricultural Society) set new standards with its exhibitor presentation. Before the event, the presenter, Gesa Dreckmann, and her crew visited the 'heroes of agricultural tech' and their development departments. This created a buzz among the trade fair visitors and put the exhibitors in a new light. This event was a special one for us because the matchmaking at AGRITECHNICA was organized using the Converve platform.
26. Give 'em props!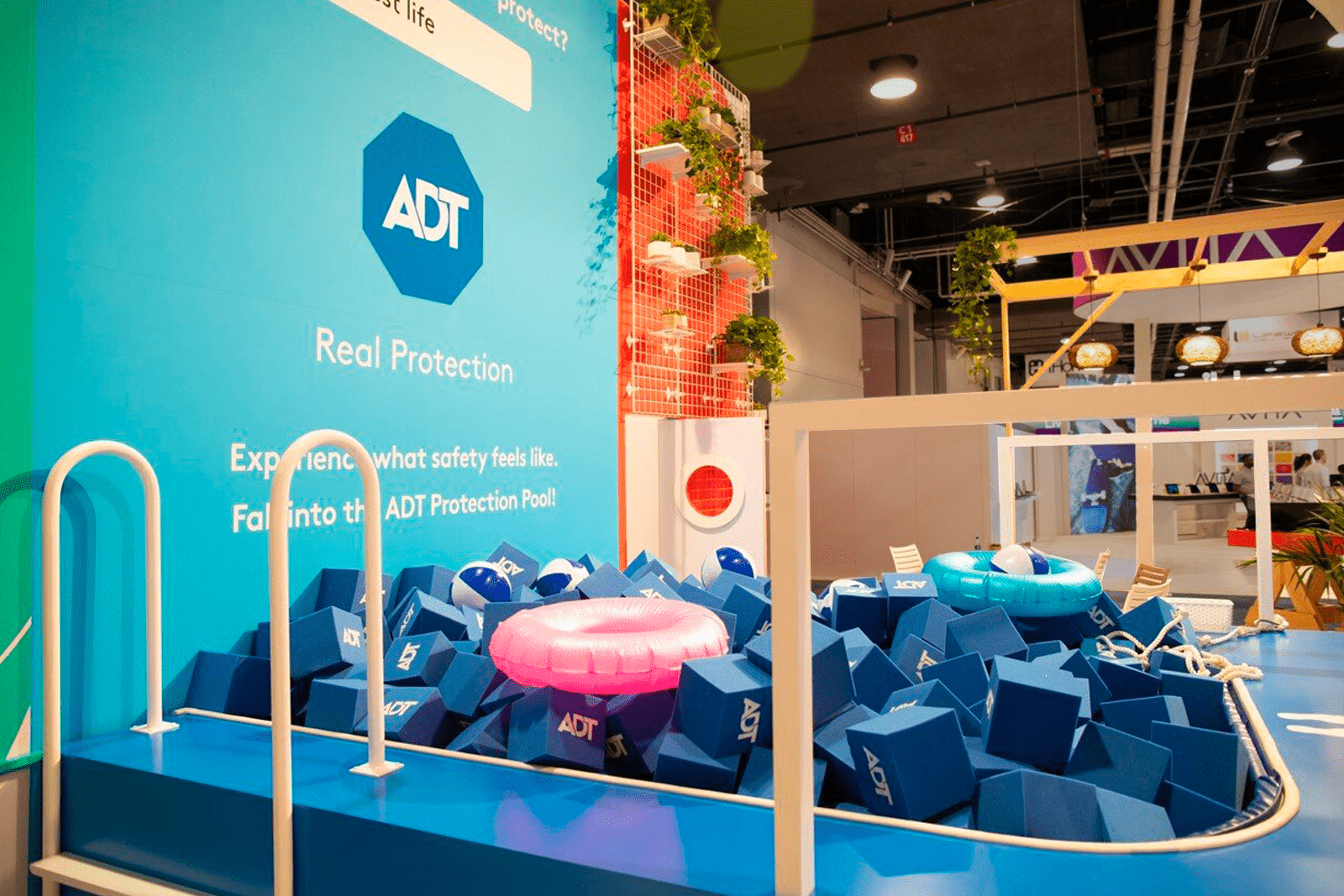 Oversized props hit two goals with one shot – fun and branding. They bring out the playful side of people and draw attention to your and the sponsor's brand. This also helps with your social media game as people love taking photos with props and sharing them with their followers. In the photo above, ADT created a working metaphor for their security systems by encouraging the event attendees to jump into their "trust fall" pit. A slow-motion camera captured the fall and could be shared on their social media handles.
27. Brand your audience
Your audience might be your walking and talking ads for your events. Literally. Set up a station and get artists to temporarily paint logos on your visitors. The attendees can have the option of choosing your logo or the sponsors' to be painted on them.
28. Show and tell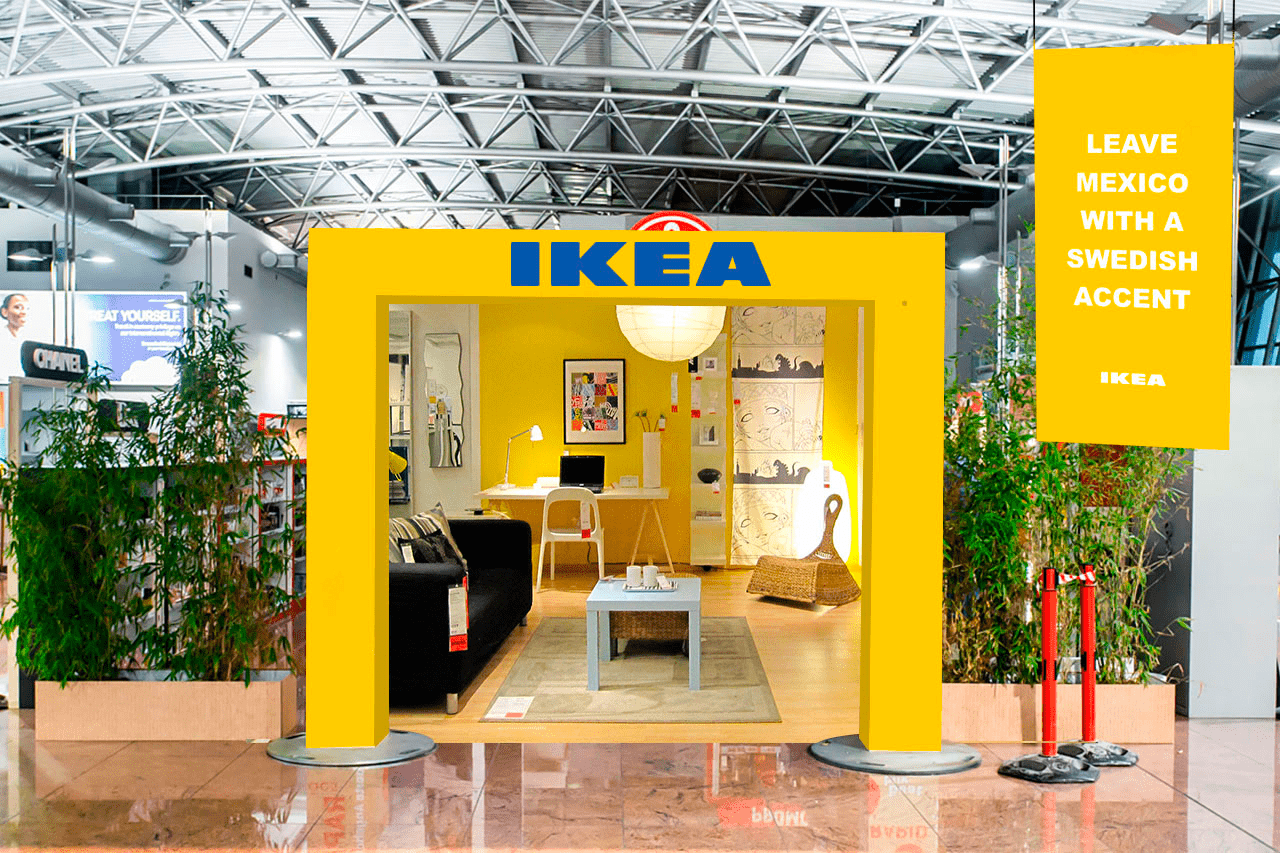 Have a demo of your product so your event attendees can get an up-close and personal look at what you're selling. This attracts attention from the right audience and generates quality leads for you and your sponsor. Also, let your event attendees get their hands on the product and experience it first-hand.
29. Whisk your audience into the VR world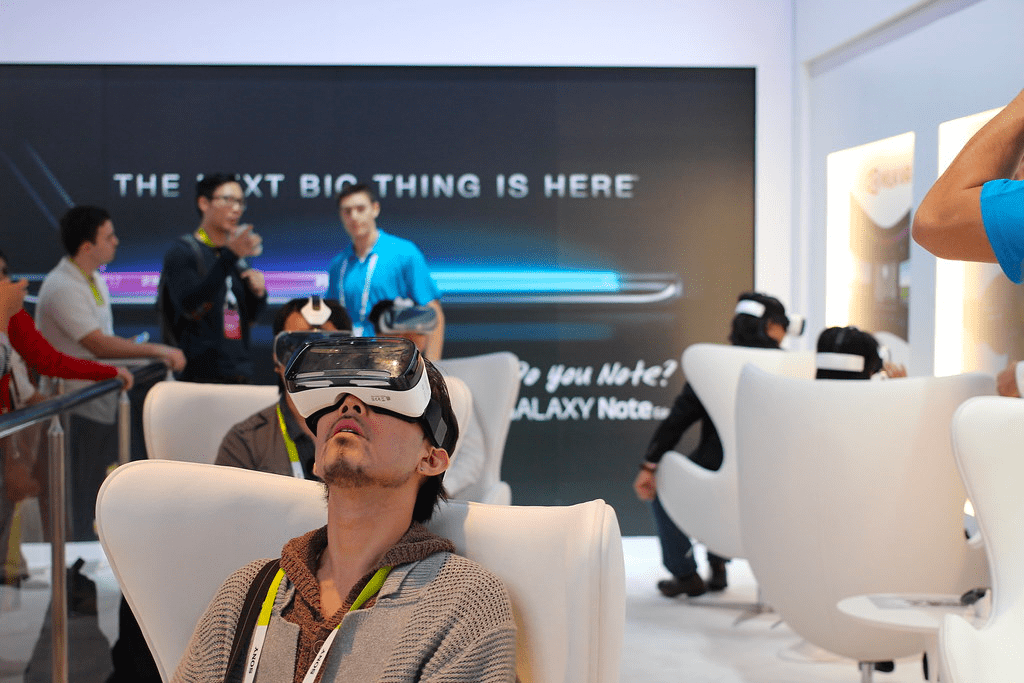 Virtual reality has become a showstopper for events. It can instantly transport your audience into another reality and also gives them confidence that you know how to make use of the latest tech. Branding VR content is an obvious choice and the best part, about 53% of people are more likely to purchase from a brand that uses VR. Worried about how much it costs? There's no need to. You can buy Google Cardboard for just $10.
30. Create branded hashtags that work
Your event can achieve the dream of going viral with hashtags. And not just that, you can also gain extensive user-generated content if every visitor uses your hashtag in their posts. So what do you have to keep in mind while creating hashtags? It's pretty simple. Include the name of your brand, your sponsors' and the events'. Dreamforce did a good job at this with the hashtag #DF22 and drummed up a pretty good buzz online.
31. Make art with post-Its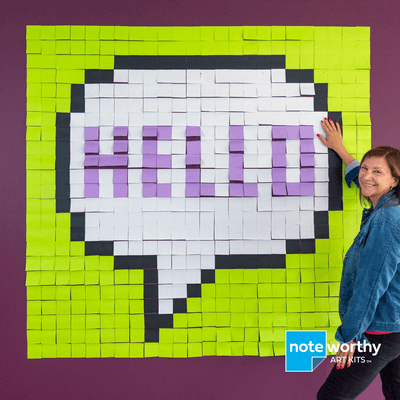 Post-its can be a work of art. This is a simple and cost-effective way of creating a colourful visual element for the walls. You can use it to create a giant-sized logo, QR codes, a space where your visitors can leave a message or a vibrant background for photos. And the best part, you can do it yourself!
32. Showcase user-generated content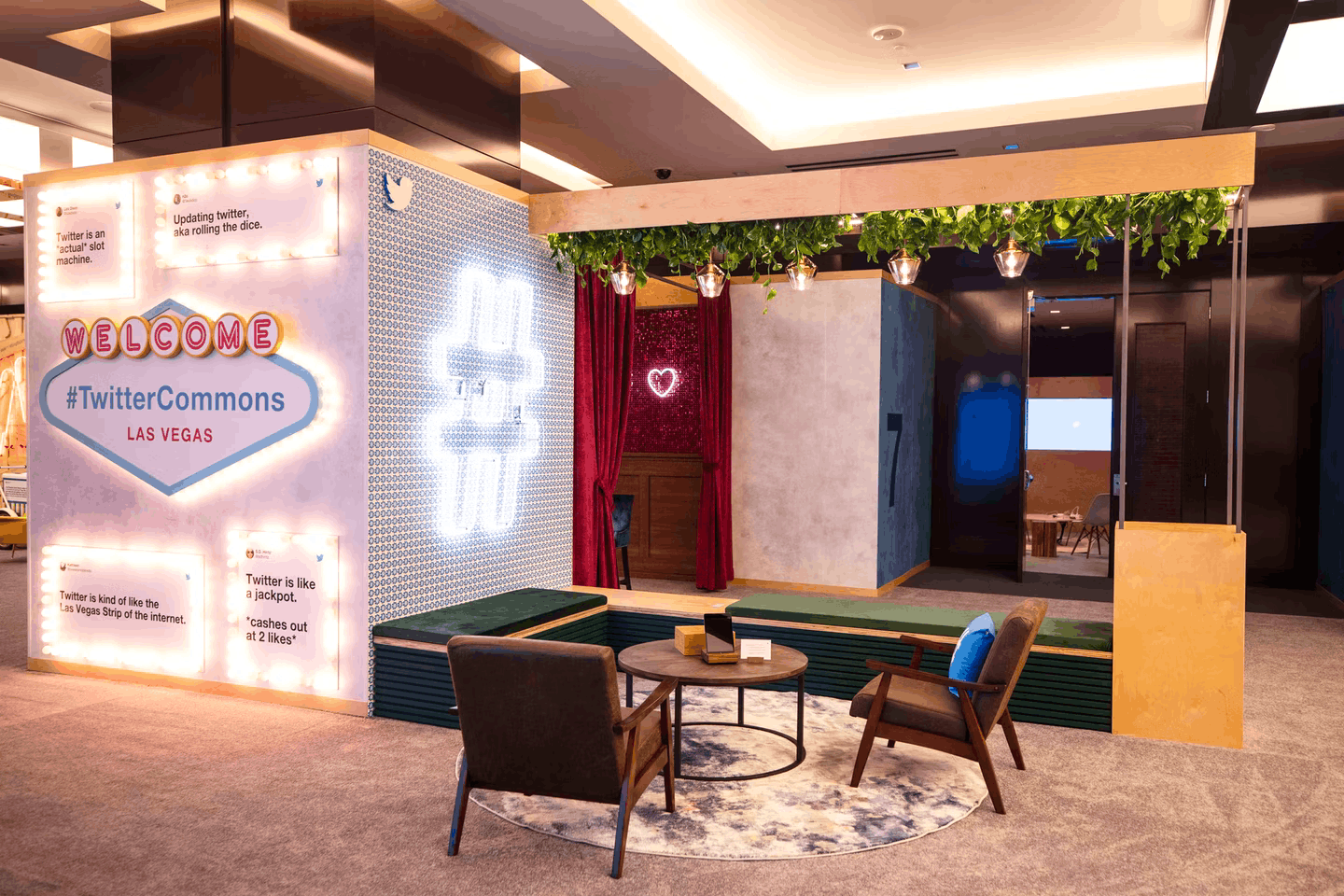 Let's face it, some of the user-generated content is epic. There's a whole range of memes, video clips and funny photos that your audience has probably posted online and tagged your or the sponsor's brand. Why not give them a shout-out? Display their content on posters or screens at your event for some fun decor.
33. Experiment with event apps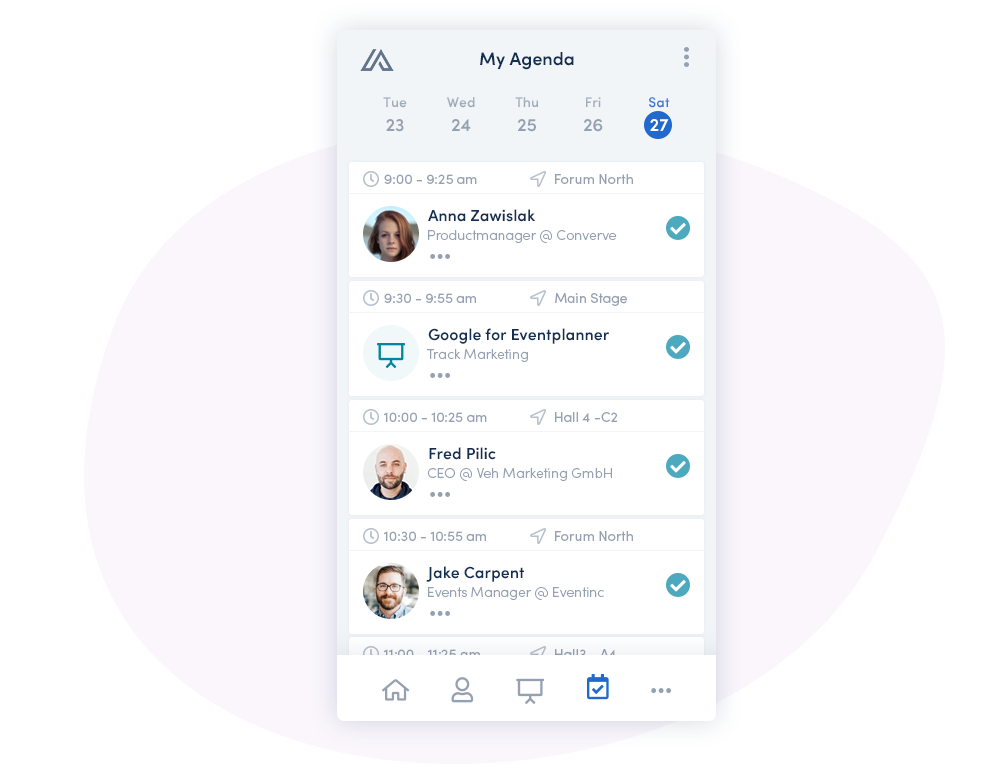 Event apps are today's version of a paper pamphlet. Why not use it to your advantage? You can share the schedule, event map, list of attendees, and update it in real-time. Your audience can also network and connect over calls and messages with you and your sponsors. Why not give them enhanced visibility inside your event app? Linking your sponsor's social media profiles helps your attendees know them better and makes it easy to give their feedback.
34. Let the product sell itself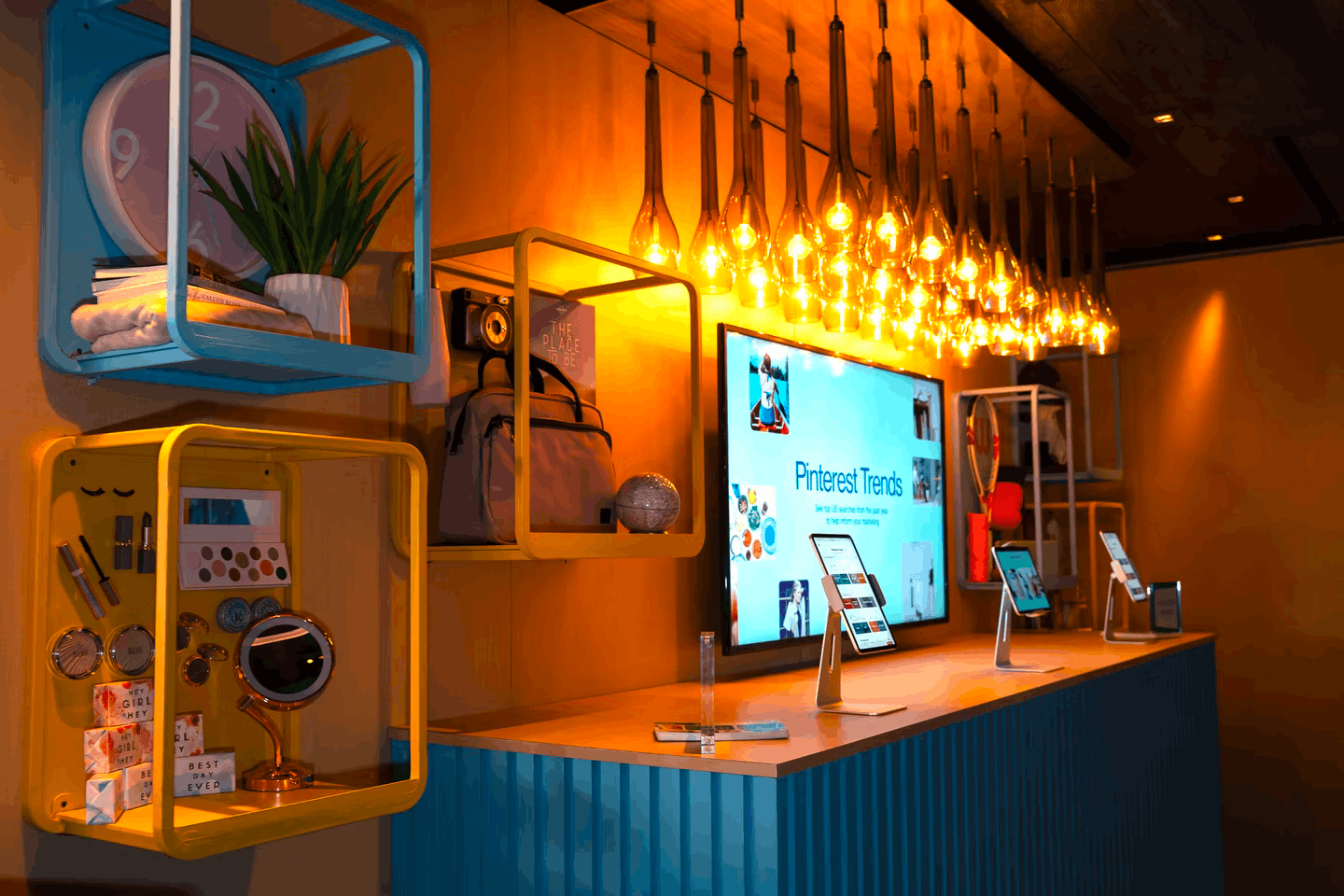 Put the products on full display and let your audience try them out. You can come up with innovative ways to display them. Just keep in mind that they have to be easily accessible to your visitors. You can also turn your product into a giant prop by scaling it in size and installing them around your event.
35. Game on! Use gamification for a playful experience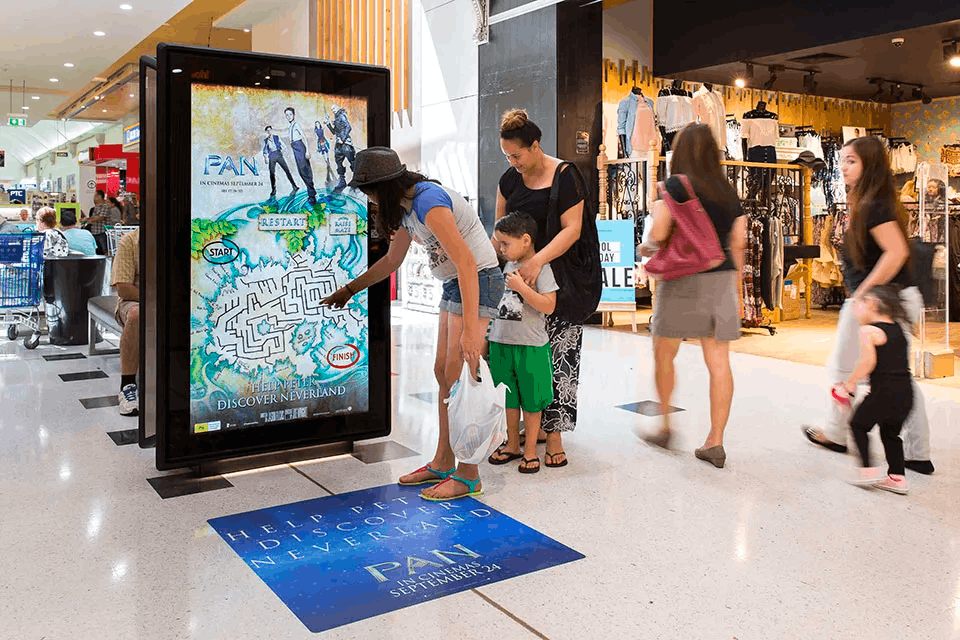 Encourage your visitors to engage playfully with games at your event. The theme of it can revolve around your sponsor's product so they learn more about them while playing. Make it simple and easy so anyone can join in. You can give away prizes that are relevant to the brand so it all ties together perfectly.
36. Take the green route with a sustainable event
Over the past few years, a great deal of effort has gone into making eco-friendly choices. And it's for good reason. Why not extend these efforts to your event too? Instead of using installations for just one event and disposing of them, they can be reused or rented out instead. This is better for the planet and doesn't burn a hole in your budget too.
37. Use nostalgia to your advantage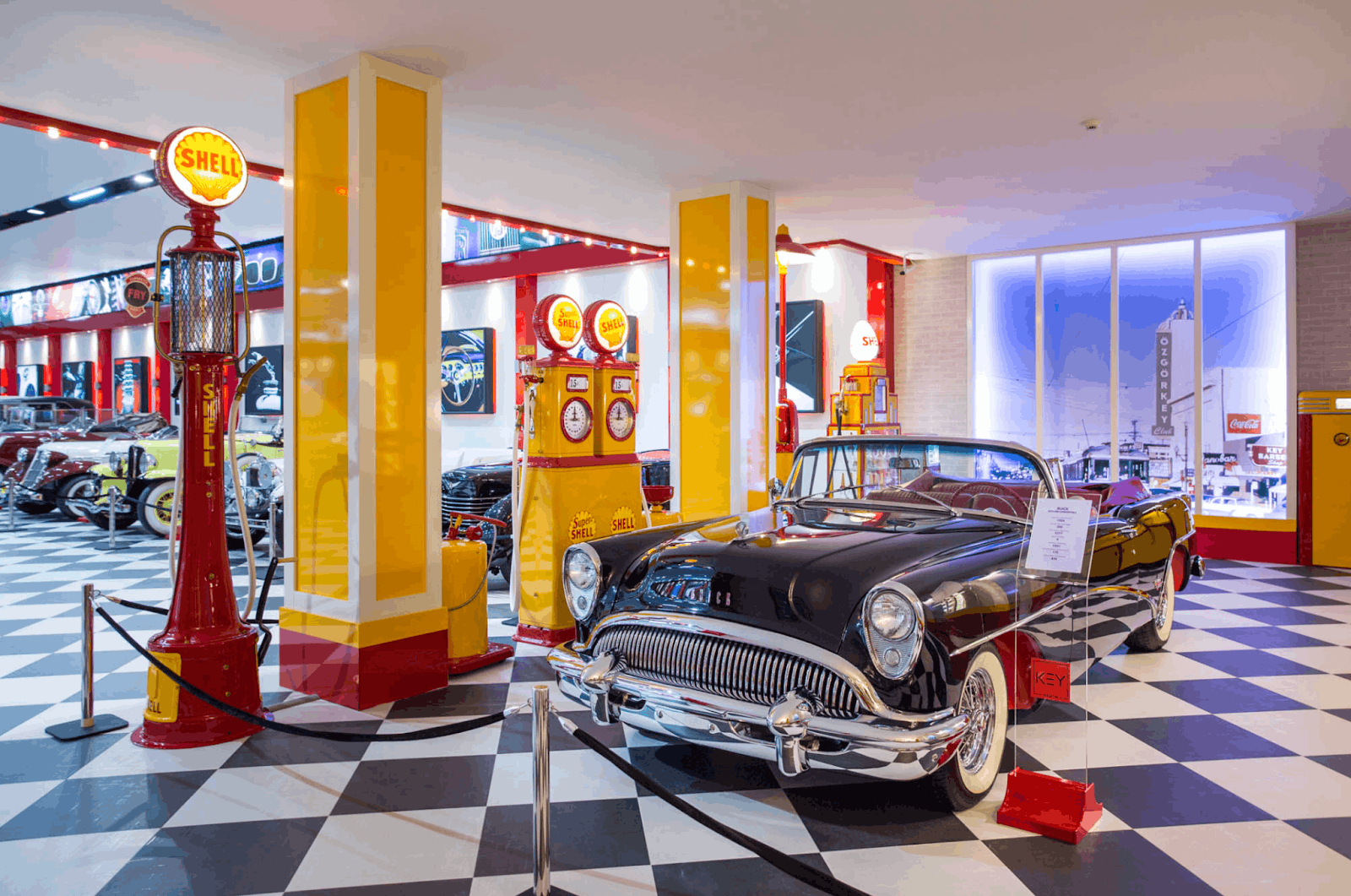 Take your event attendees on a trip down memory lane with your products from the past. This helps them get to know you better and shows how far you've come. It'll also bring back memories of simpler times and create a sense of connectedness. Relive the blast from the past with optimism and a warm, fuzzy feeling.
Last but not least: 3 Tips to integrate your Event & Conference Sponsorship Ideas
There are plenty of opportunities to get your audience to sit up and take notice of your sponsor. Be it in-person, virtual or hybrid platforms, with the right event idea, your help sponsors achieve their goals and get them to support your event in the first place. But to make everything fall into place, you need to execute ideas that would draw in your audience and make them stay. Here's a quick rundown of how you can do this:
Keep up with the latest tech. Your audience will trust you and your sponsor a lot more when they know you care about being innovative.
Be human and have fun with it. Your event might be all about business but there's no harm in loosening up a little. In the end you are marketing to people and not business entities. You will come across as more approachable and personable.
Find ideas that are a natural fit for your sponsors. Being authentic and finding genuine ways for your sponsors to connect with your audience is a sure way to make your event a game-changing experience.
Planning your next event or conference? Converve is your #1 platform for custom tailored B2B Matchmaking & Networking events. Get in touch with us. We will be happy to hear your ideas.